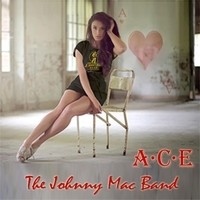 Long Island, New York musical mainstays The Johnny Mac Band have quickly won a reputation as one of the hardest working acts in their area, but it's good music that gets them over with their crowd, not just empty sweat. The first single off their forthcoming album Ace is the title cut and it promises to pick up where they left off with the band's lauded first album Destination Memphis. The four piece have slated the new album's release for July and, until then, are keeping themselves busy with the usual rounds of live show and jams until the time comes when they begin pushing the new album in full. Their original songwriting vision embraces their obvious influences, but they also have a distinctive voice divorced from imitation and, instead, superb at conveying their own experiences and point of view in a familiar musical vehicle.
URL: https://www.johnnymacband.com/
They could go in for a bucket of blood blues or R&B approach, but they never opt for that direction. Instead, "Ace" has an impressive airiness from the first and the separation between instruments is quite artful. The funky bass and nice groove cut by drummer Ray Hauck are key components of what makes this song work, but the slide guitar from Johnny Mac exceeds it all and strikes an appropriately bluesy note. Joe Roberts' hits just the right note with his judicious organ fills – it adds more color and musical layering to the track without ever upsetting its balance. The band really does an outstanding job milking this groove for all its worth and even succeed in deepening its effects during a particularly outstanding second half. The tempo spikes a little bit during the second part of the song and an uptick in intensity accompanies that to give the song a particularly rousing musical finale.
Johnny Mac won't sound like a natural singer for first time listeners, it's clear the substantial part of his talent comes with his guitar work, but a funny thing happens relatively early on with this song – you dismiss the lack of classical beauty or technical skill and simply believe him. This is a quality you can't bottle. Responding to the truth of a singer's presentation isn't a given in the blues genre and to find yourself in the hands of a first class interpreter makes things all the more entertaining. The lyrical content makes a lot out of the card playing imagery, but it never relies too heavily on cliché. The Johnny Mac Band's second album, based on this title cut, is poised to be a significant move in the life and career of these veteran musicians. They have something to say and the skills to make it come off with both authenticity and individuality. "Ace" is a first class effort in a well established tradition and they deliver the goods with equal parts finesse and fire.
FACEBOOK: https://www.facebook.com/johnnymacband/
Jason Hillenburg