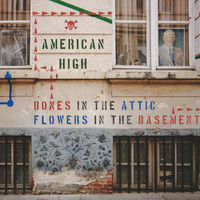 American High's "Bones in the Attic, Flowers in the Basement" has an early 90s, lo-fi pop quality to it. The songs get stuck in the mind with their sing-along lyrics and joyful melodies. Keeping things to the essentials these are thoughtful songs that never overstay their welcome. Reminiscent of bands like Sebadoh with a bit of polish, Arches of Loaf but with more optimism, these songs positively glimmer with hope. Narratives form over the course of the album showing off their uncanny knack to weave intriguing shaggy dog stories.
Setting the tone of the album is the giddy work of "Fairfield, Ca". Energy pours out of the playful sound of "Pretty Baby" with its highly descriptive lyrics giving it a poetic quality. Rather subdued in nature is the R. Stevie Moore referencing style of "Sensei" complete with little flourishes that add to its charm, from the field recording that introduces it to the triumphant choir. "1.17.61" strips things down to the essentials with a crystal-clear sense of passion. Nice distortion comes into focus on the rush of "Test Pilot". With a punchy rhythm is the jazz-like stylings of "Forgive + Forget You". Ending things on a high note is the celebratory spirit of "Berty's Never Gone" whose charming melody adds to the overall passion of the piece.
"Bones in the Attic, Flowers in the Basement" revel in songs of the underdog, giving American High a warm compassionate aura to their sound.
By – beachsloth.com