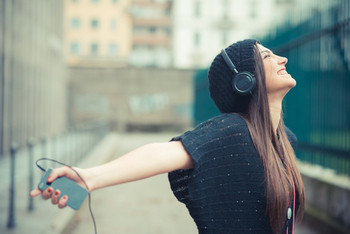 Whether you blast the Top 40 pop charts while on your commute to work or school, or jam the indie rock scene while plugged in at the gym, music lovers need a smartphone with a healthy battery life, a reliable data carrier and the best music specific smartphone accessories. But with all the static in the mobile tech market, how do you land on the smartphone and plan that's best for you? Here's a smartphone guide for the true music lover.
Smartphone Hardware and Proprietary Software
One of the best smartphones, in terms of hardware, for music lovers, is the HTC One (M8). Instead of rear speakers, this smartphone has speakers that face the user. Furthermore, these speakers are stereo, rather than single-track. The (M8) also has built-in amps as the speakers on the phone are so robust. The headphone output gets a boost as well with HTC One's trademarked BoomSound software. BoomSound is an app that lets you adjust bass, treble and other sound levels so you get the sound quality you want, no matter how you listen.
Another solid option for music lovers is the LG G6. While you won't get the same stereo quality from the G6's speaker, the headphone jack is among the best on the market, and while there is room for improvement (LG's Korean version of the G6 comes with a much better headphone jack), most consumers won't notice a difference in sound quality between this smartphone and king of smartphone audio, HTC One.
Music Accessories
While some phones come with decent audio, you can always improve with some quality headphones or Bluetooth speakers. For your home, Bose dominates the market in terms of quality audio. CNET loaded their list of top Bluetooth speakers with Bose and JBL sound decks. JBL even offers a mini water Bluetooth speaker great for the beach or rocking out — sing alongs, while in the shower. Of course, while you stream, download and play music, you'll need a quality mobile carrier, one that doesn't offer cell phone plans that penalize you for using a ton of data. In this day and age, all mobile carriers are great, so why not pick on with an unlimited data plan, like T-Mobile's All In plan, two lines, for just one hundred bucks, said and done.
When it comes to headphones, think about when and where you listen to music the most. Does background noise interrupt your thoughts while you ride the bus to work or school? Then some bulky over-ear headphones are likely your best bet. Do you want Bluetooth with that? Then, again, Bose takes the lion's share of the market with their QuietComfort 35, which combines wireless and noise canceling technologies for an awesome audio experience. However, if you need music while on your daily run, at the gym or while active in any way, in-ear headphones may be the better option for you. The Jaybird X3 Sport Bluetooth earbuds aren't only wireless, but they wrap around the back of the head in a snug embrace. With these, there are no more dangling cords, and your earbuds won't fall out while on the treadmill. However, they do not cancel out background noise like over-ear headphones.