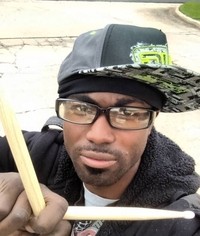 If you haven't already gotten to the memo, welcome to the new age. Swaylex's YouTube uploads are a real one-man-band effort with the musician playing all of the electric guitar parts, bass, and drums. There's utterly honest DIY productions are executed far better than some might expect and the intimacy of the surroundings is no impediment to enjoying these songs. "No Rules" is an instrumental track and sure to appeal both young and old fans of guitar driven rock. The track is very brief by contemporary standards, but that's also no obstacle to fans of the instrument appreciating and enjoying the talents on display. Swaylex's music, for now, exists on the fringes of the indie music scene, but it's where a lot of nascent artists ply their trade initially – Swaylex hits all the marks for this kind of music while delivering an economical, dramatic performance that lingers in the memory.
The song switches up its tempo at key points. It begins as a very methodical number, led by the guitar, but it isn't long before he brings in drums, bass, and a second guitar track to buttress the lead guitar. The methodical pace, however, soon opens up a little further and the tempo noticeably picks up. It fluctuates throughout the course of the performance, but retains a seamlessness that makes those transitions smooth sailing – whereas a less talented musician might stumble over such changes. The main guitar motif guiding the song has enough melodic merit to keep listeners' attention throughout while still showing off the muscular movement that rock songs such as this demand.
The sound of the track is distinctly modern, but the effects laid over the instrumentation are light enough that they never detract from the final product. Swaylex's lead guitar, in particular, has a warm tone with only a thin layer of phasing giving it a distinctive edge. The accompanying parts on rhythm guitar, bass, and drums are far from perfunctory and ably support the main guitar lines. Some instrumentals leave me with a feeling of incompleteness – as if they would greatly benefit with the addition of a human voice providing vocals. It's a feeling that never arises with this material. Instead, Swaylex makes his lead guitar work sing in an immensely artful and tasteful fashion. The song clocks in at a little over two minutes in length and, based on that alone, one can hear and see that there's an economy of presentation in Swaylex's work more befitting an experienced artistic hand rather than a young talent. Such figures are rare. Emanuel Williams, Swaylex's real name, is clearly positioning himself for maximum notice and every bit of attention he receives from the Internet community is wholly justified.
TWITTER – https://twitter.com/youtubeswaylex
Jason Hillenburg