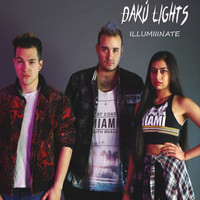 No matter how many times an artist or band goes and says how much they have been developing their sound and style, it always ends up being successful or unsuccessful whoever may be in question. For Dakú Lights with their first ever debut release in the form of an EP titled "Illumiiinate", well let us just ask this, how many genres does it take for one band to consider it their very own sound and style? How about it being more than just a few. Hence the genre's ranges from pop, EDM (electronic dance music), electronic, indie, r&b, kpop (koeran pop music), plus more! How much more could there be on just one release let alone one song? Well you would be surprised as in "Over" does just this.
"Over", in fact starts things off for the "Illumiiinate" EP which is not bad, because "Over", happens to be the single that Dakú Lights went with for this release. How does it play out though. Well the song is shall we say interesting. It's not only the genre's that are thrown together, but they merge various beats as well. Take those two together with the added smoothness of the vocal chords, that is what you get with "Over". You get music that sounds more like r&b pop music, with jazz influences with mixed beats dropped upon throughout, having the song be just different.
All of the music that comes from Dakú Lights is done in this formula. It takes the genres they have chosen, uses some beat noises, with smooth vocal chords that it creates a style and sound that is unique and truly their own doing. There really is not any other way to describe their music really, it becomes a bit harder to say in words than how it's already been said here."Over", as a song on its own though, is different and unique. It is definitely one of those tracks you can hear upon the car radio or online radio for sure.
Besides the song though, the band Dakú Lights is made up of only three members, yes you read right, a trio based group. Which turns out to be not as bad as you would have thought it to be. In fact, this works quite well in their favor. How so though, well "Over", may end up becoming a successor on its own, while the EP with the song preserved within, will surely take the band places in time no flat. Allowing for them to build upon an already growing following with music in tow, that will continue to expose their uniqueness and development as a whole.
In short, "Over", by Dakú Lights is a track of variety, for as the band puts it " Our music is aimed at anybody and everybody, we will appeal to people of all age groups". Or shall they say it best, in the form of some of the lyrics that go with this song, "So get gone, so bye bye, it's over, bye bye, so get gone".
By: Natalie Perez – natalieannnperez@gmail.com