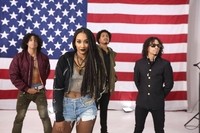 When a band goes and combines such genres as rock with soul, you have to scratch your head a bit about the two being tossed together. Rock music and soul music could go together and have likely more than once but does it always work out. In the case of New York City band Quantum Split, they have done such a thing, using both genres to their advantage with their latest track called "America".
"America" was released not only as a solo single but was turned into an accompanying music video as well. Both of which go quite well together, while it is the same piece the visuals for the music video counterpart is done right. For instance the video showcases what the title and song is about America. "America" as a video of course, is sorted on different aspects, it shows the band performance, with segments of America with its numerous events and activities happening in and around the globe. While the band tosses themselves into the video with their performance piece, it is well crafted in, having them doing their own thing, while the rest of the video pieces together a collage of images and video footage of numerous things going on. It really shows off the case of activity happening from all over the place really.
The song itself "America" is quite the song of sorts though. The song is mellow, easy going, yet rock hard with that soul base aligned atop it all. It just makes the song more stronger than it appears to be. The usage of guitar riffs, solos, and drum beats keeps the music in check, while the vocal chords are stunning, having the vocalist in question being front woman Soleil Laurent doing her best job throughout. Her skills as a vocalist is captivating, interesting, and as said really stunning, she is able to mix and match the style of rock with that style of soul. Again having the two go hand in hand with one another. Like they are clashing against one another, but it manages to work itself out, to sound decent in quality.
As for the instruments played throughout they have their moments with the noted guitar riffs, solos, and drums doing their part, it keeps the music moving right along. As their portions go right into the vocal chords, having it all come together as a full circle if you will. Quantum Split as a band is quite interesting to say the least. They have got that energy and source of momentum flowing for them, that it becomes an act to adjust too, that you find yourselves enjoying more so than you thought you would.
All in all "America" by Quantum Split is a song with a band to follow up on. They have got that spunk, flare, and hype going for them, with just the right amount of energy to keep up. Their track that is here, is one to easily bob your head too, if not possibly even bounce around with. That is how much fun this song tends to be when listening in to it.
By: Natalie Perez – www.nataliezworld.com – natalieannnperez@gmail.com