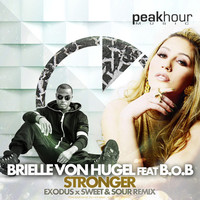 The work place with family and friends could be set up for a good situation or likely a bad situation it all depends, upon the individual in question of course. In the case of producer Exodus with his fellow producers Sweet and Sour he has gone as far as remixing up-and-coming artist Brielle's newest song called "Stronger". Her track "Stronger", not only has her singing on it but features an appearance by another up-and-comer artist by the name of B.O.B. Together this song is brought out to be upbeat, catchy, and very dance-able.
You heard right, the genre choice is dance, but that is not all, there is also some pop and r&b present. Thanks to the guest appearance by B.O.B. he features his own abilities of the r&b hip hop genre, having the song be more out spoken and stand out above all other tracks in existence. That being said, "Stronger", listened to more than once, especially in a row, can get rather tense, as the song is more drown out at times, having it be competitive at times.
How is it competitive exactly. Well hearing it countless times in a row, it just gets on that horizon of sounding rather two tone, that it sounds interesting and fun but can get tiresome fast. It's just a really fast ride at an amusement or theme park, the ride is going so fast that everything just hits you all at once. That you don't get to experience it if at all really. That is what this song does, it plays through real fast, that each time you hear it, it gets more competitive to hear.
The two vocalists featured on this track are both doing their part evenly well. Brielle Von Hugel's style of vocal chords is decent sounding, maintaining that dance pop sense, whereas B.O.B.'s vocal sense is more outgoing his ranges sounding a lot like other artists out there within the hip hop rap field, like Nelly or Usher. Except B.O.B. has a unique voice to him as well, that makes him sound more captivating that you may instantly recognize who he is, as you would the other artists compared to him just now.
Each of them has that uniqueness to them that stands out, but keeps an image to it. One that can be over written again and again, to sound the same if not possibly different each time you hear one of their songs. As far as "Stronger", goes it ends up being one of those songs that you can find yourself enjoying while alone in your room, car, or late night club scene. It's one of those that will have you dancing along to each of the beats flowing right along.
As for the remixing portioned throughout the song, the sound quality is decent enough. But could be improved in some ways, the quality is decent sounding in all senses, but perhaps use more edgy-ness to it. Having it step away from the dance, pop, hip, r&b sense, having it take a left turn if you will, sounding like something it totally is not. Now doing that would make this song really pop!
In regards to Brielle and B.O.B. as artists though they are both quality sounding acts to follow up on, because they have something unique and creative, that is truly noticeable to the ear. A style that is true to who they are as the artist they are wanting to be.
http://www.briellevonhugel.com/
By: Natalie Perez – www.nataliezworld.com – natalieannnperez@gmail.com