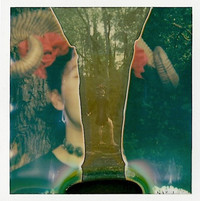 Matty Marz has an EP "Child Of The Wild" in the works, but for the time being, has released its first single off it called "Slow Motion". While this track and his style in general tosses together, quite a bit of genre choices, ranging from pop, house, EDM, and industrial rock, he takes these to combine not just music but an art as well. By combining art, music, fashion, as well as pop culture, Matty Marz, has got something that is truly unique and all original done by him and him alone.
That said, "Slow Motion", does bring to mind some similarities to that of another artist known in Japan as a pop icon called Hatsune Miku. Her style may be virtually programmed by computer graphics and music, but her style is quite similar to Matty Marz. They both use that auto tune, tone to their music, that makes it sound techno, yet electronic sounding. Even just the instruments of the beats of the music sound a lot alike sort of. The vocal chords are not the same, except for some elements, the one's that sound very techno and electronic sound the same at times, but the rest of the music done by Matty Marz is clean cut vocals, to where you understand him clearly.
Besides that though, the instruments used throughout this track though, are indeed interesting. It combines the use of guitars, drums, and perhaps keyboards. It's hard to tell really which instruments are used here, but that just makes the song more interesting to the ear. The song is progressive yet upbeat, having an ever flowing tone to it. One that keeps a persist beat, but stays in track to everything else, going along with it all.
Not much else can be said about Matty Marz or this song really. You just listen to it once, and you instantly get a feel for it. What style he is going for and which direction he plans to take the rest of his music, whether it'd be shown on the EP release or future material. This style he has created here, is what he is aiming for, and it's shown in this glimpse of a track called "Slow Motion".
Matty Marz as a person though, by the looks of him, looks like the creative type. He has that fashion and artistic vibe going for him. The music is just like a backdrop to everything else, by the looks of it. Which actually makes sense, while his music may be the backdrop to his creativity, his other abilities stand out, helping him to create, all the rest that is needed for this whole ordeal, that it ends up coming full circle if you will.
That's what Matty Marz is doing here, and it makes a lot more sense. He has all of these other pieces of his musical puzzle, putting each piece together that it makes the music work so well, that it blends it altogether. "Slow Motion", may be a glimpse into what can be expected from the EP "Child Of The Wild", but it is a good idea, of what he has inside of his own mind, body, and soul.
http://iammattymarz.wixsite.com/mattymarz
By: Natalie Perez – www.nataliezworld.com – natalieannnperez@gmail.com