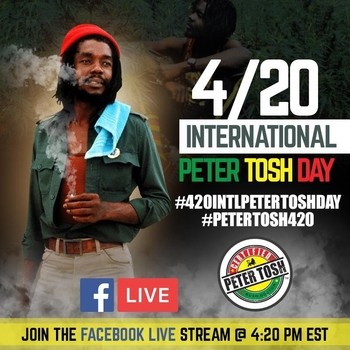 Having recently celebrated the 40th anniversary of his timeless classic "Legalize It" on the heels of the Peter Tosh Museum grand opening, fans worldwide are getting ready for "International Peter Tosh Day" on Thursday, April 20th, 2017!
Among the many acts who are planning tributes and messages of gratitude spreading the "Legalize It" movement worldwide; Tosh's children and grandchildren including sons Andrew Tosh and Jawara "Tosh 1" McIntosh, grandson Dre Tosh, and granddaughter Jahzarah McIntosh have continued their father and grandfather's legacy through music and advocacy.
Granddaughter Jahzarah, who will be participating in a Facebook LIVE stream to commemorate the third annual International Peter Tosh Day, recently had this to say on the upcoming celebration:
"I believe that it's time that the world comes together and celebrates my grandfather Peter Tosh. Over 40 years ago, he released his iconic song and album Legalize It. A song that became the anthem for those that believed that our human rights should NEVER be compromised. Join me and many others as we celebrate the musician, the activist, the revolutionary, and the visionary on April 20th, International Peter Tosh Day by sharing your videos and photos with #petertosh420 and #420intlpetertoshday."
International Peter Tosh Day will also be a day of recognition focused on Tosh's contributions as a revolutionary musician in hopes that he will be considered for the 2018 class of Rock & Roll Hall of Fame Inductions and given the rightful honor he wholeheartedly deserves, with the continued #InductTosh movement spreading worldwide.