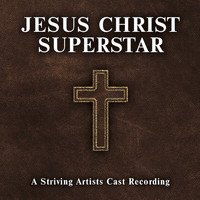 Phrases come in an assorted amount of shapes, sizes, and sayings of course. For one that tends to be quite popular is one that goes a little like this, "Third time's a charm". The belief that the third time, it takes to do something is more than likely to succeed than the previous attempts. Hence this method would be known as a "good luck charm" of sorts. So yet another phrase if you will. In any case though, this third full-length album by the Striving Artists, a non-profit company, involved within the arts, focusing on the four artistic disciplines, of theatre, films, writing and music.
This said, the third full-length album in question, wouldn't be a release of original material, but copied works, as it is a cover album of sorts, taking the likes of a musical, a opera of the rock genre, which was originally created by Andrew Lloyd Webber and Tim Rice, this one being called "Jesus Christ Superstar"! Now you are probably thinking, this non-profit group, has to be religious or involved with the church or something along those lines, while that may or may not be so, it does not matter, because in reality, this is purely music, and it is in fact rock music! Hence why Webber and Rice call it a "rock opera". As such, this musical rock opera, that is "Jesus Christ Superstar", details the dramatization of the last week of the life of Jesus Christ, beginning with his entry into Jerusalem, and ending with his Crucifixion. The musical itself has been known to be liked and disliked depending on whom it is in question, one time having the BBC banning it on the grounds that it was "sacrilegious". Does that mean that will be the case, for the Striving Artists take on it? Well… it is a covered version of the same material, and while their take is indeed their own version of it, they bring it to life, in a whole new way, for the modern era and days of our lives, to say it simply.
Some music fans also love Christian wall art and they can find many of these online. There is an assortment of  beautiful and affordable styles you can choose from.
Striving Artists was founded by Greg Luzitano and his sister Mary Beth Luzitano, the executive director. In 2015, the Striving Artists, had approached their 10th anniversary, and Greg and company wanted to do something different, so that is where "Jesus Christ Superstar" was picked and created. Greg setting to work straight away, as a cast was assembled, he would play guitar, at a local concert of the album, then he had recruited several other cast members. Other roles were then filled in by performers who had done work on previous content and releases. He would then call on drummer Nate Goncalo, trumpet player Jessica Hookway, flute by Emma Hookway, and violin by Abigail Dickson. The rest of the orchestral instruments was done by Greg himself, using a software program called the East West suit of software instruments. Put this altogether and you get quite an album, let alone third full-length album, titled "Jesus Christ Superstar: A Striving Artists Cast Recording".
The album opens up, on disc 1, yes, believe it or not, this is a 2 disc set, disc one consisting of 12-tracks, while disc 2 consisted of another set of 12-tracks, so 24-tracks total, should be something to keep you entertained, if not at least a tad entertained. In any case, disc one, kicks things off with the "Overture", then works it ways through, with such tracks as "Heaven on Their Minds", "Everything's Alright", "This Jesus Must Die", and "The Temple". Are a few of the more stand out tracks, that really take you in, as the listener. The tracks, sound decent enough, are very catchy and upbeat, just like any other musical, you may have come across. The "Overture" being the introduction of course, that really takes you in on this musical journey, having it sound like an adventure seeking style of music, with this song choice. Whereas the next track following is "Heaven on Their Minds", being more dramatic, yet still catchy, and upbeat, it has it's slow pace tone, except contains that rock vibration, echoing throughout.
"Everything's Alright", "This Jesus Must Die", and "The Temple", sway away from the previous tracks, being more futuristic if that makes sense. These tracks being rock based, but having a future sound to them, like not techno status, but sort of, it just has that tone, that almost sounds like techno but not close enough. Easiest way to compare these would probably be like they sound a lot like Queen's works, their style was out there, so that's what you get with these selective songs. A style that's rock yet out of this world, if you get the flow going here.
As for the rest of disc 1, it ends up being layered like the rest that was previously mentioned, having that rock vibe, with the musical essence, thrown in, being upbeat, and catchy, from all angles, being tossed around, that it will have you as the listener, being on the edge of your very seat.
Now for disc 2, that one kicks things off, with shall we say, act two of this double disc set, with a track called "The Last Supper", which is in fact, an important moment and scene of Jesus Christ's life, if you weren't aware. But the song itself, is quite interesting, it has mellow vocal chords, with easy going rock beats, that will have you bobbing your head to its tones and source of rhythm. Other tracks off disc 2, that would tend to stand out, would have to include "Gethsemane (I Only Want to Say)", "Pilate and Christ", "Could We Start Again Please", and "Judas Death".
These songs, are more toned down, having the material be rock based, but more mellow dramatic, having the instrumentals being easy going and upbeat, not being fast or heavy, but flowing with the music, more easily. While the vocal chords, on all of these tracks, are done quite well, having them flow atop the music, staying together in tone, keeping the melodies in check, as it all works together in the long run. If there had to be one stand alone, stand out track, it would likely be "Superstar", this one really sets up, both discs, and the "Jesus Christ Superstar" musical and album, as a whole.
It really brings back the styling's from disc 1 and disc 2, having the melodies, be very outstanding, catching, up beating, and keeps the music, alive. If you don't find yourself bobbing your head, to the beats of this one single song, then you will for sure after hearing it. It persists that tone, that has you, wanting to move in whichever way possible, that's how catching the rhythms' tend to be here.
"Jesus Christ Superstar: A Striving Artists Cast Recording", is one of those musical recording's, that will be remembered by many, if not all, because this version is done rather well. So well, that you may just find yourself, being a fan of the musical genre, when you may have never liked it before, that's the reaction you get, after listening to this release.
http://www.strivingartists.org/
By: Natalie Perez – www.nataliezworld.com – natalieannnperez@gmail.com