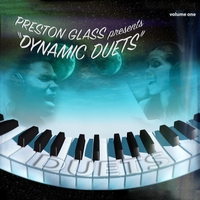 Duets can either be good or bad, depending on the performers in question, for instance the take on "Beauty and the Beast", both remake of the film and it's timeless classic of the same name, done by Ariana Grande and John Legend. Now their duet sounded very reminisce to the classic animated version of the film, and its original and covered track, performed by Celine Dion and Peabo Bryson back in 1991.
Speaking the 90's going "back in time" as quoted from another song by another act, bonus points, if you can figure it out, let alone maybe the film it is from even. In any case, for this new duet that comes in the form of Miss Terry Dexter and Mr. Johnny Manuel, with their track "I Remember", from the album "Preston Glass presents: Dynamic Duets Volume 1", their song is quite interesting to say the least.
While it may not sound like the Disney classic songs mentioned above, their "I Remember", track does consist of quite a bit of emotion, both lyrically and context wise. The lyrical context for one, is filled with emotion, passion, and pride, in a relationship or marriage sense, discussing the time of love, and being in love, if not losing a love, it is all found within this song. All of that alone, says quite a lot, I think. In any case though "I Remember", as a song itself, is mellow driven, being very laid back and easy going for one, having it be one of those songs, you would hear on the radio, or perhaps in a classy or typical night club atmosphere, that you can slow dance too.
That is the feeling that "I Remember", does or at least brings to the imagination. The song was produced by a hit of a maker Preston Glass, whose done work with other great artists such as Whitney Houston, Aretha Franklin, George Benson, Earth Wind and Fire, and Natalie Cole. While the co-writing was done with Preston Glass with his old writing partner an award winning Grammy producer Narada Michael Walden. The duo went on to write many hits, some went as far as being quite massive hits of the 80's like for instance, Jermaine Stewart Single "We Don't Have To Take Our Clothes Off" Aretha Franklin's "Jimmy Lee". While another release by Kenny G called "Duotones" was another wonder of a hit for them. This duo together would always break out the hits one here, and one there, that you would always know it was them. Which is where it has lead and brought them with Miss Terry Dexter and Mr. Johnny Manuel's track "I Remember".
Buy: https://www.cdbaby.com/cd/terrydexter
The song in itself is indeed a beautiful song, that will resonate with many audiences within the soul, r&b sound wave, because it provides that vibe with a classical sense as well. It brings to mind that of Glady Knight or even Aretha Franklin's era of time frame. If not perhaps even Earth, Wind and Fire, or as said before, the "Beauty and the Beast" track with their assorted duet of folk, that is what you get when hearing "I Remember". It's one of those songs that you can sit back and just reminisce about. In short, it is a track that any generation of a music fan can enjoy, listening in, they will have a smile spread across their face, because of the romance, passion, and love, that "I Remember", of Miss Terry Dexter and Mr. Johnny Manuel brings out.
https://www.facebook.com/PrestonGlassMusic/
By: Natalie Perez – www.nataliezworld.com – natalieannnperez@gmail.com