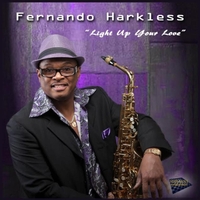 Jazz, like other genres among it, jazz has its own assortment of genres, ranging from the pop rock styling's of jazz meets rock of Jamie Cullum, down to the jazz smoothness of Kenny G, right down to up-and-comers such as Fernando Harkless with his song "Light Up Your Love". The song being tossed out by the Next Move Entertainment Canada company, "Light Up Your Love", features Fernando Harkless of course, him coming in on the saxophone as well as vocals. His vocal chords and saxophone performance being quite the pair to hear. His style does bring to mind that of Kenny G's work and style, while having his own sensational style of his very own.
Fernando Harkless if any were curious, is an LA based recording artist who has worked with a wide range of artists including Mariah Carey, War, The Gap Band and Rick James, and Marvin Gaye. As a matter of fact, those acts may not be included on this track, but their style's are close to what can be found on this track. Fernando's style being very much alike to their styles, except it is his own as previously mentioned.
The song itself was originally composed and performed by Canadian Juno award winner Ronney Abramson, who had the producers, bring her talents back to life, as she went on to play the guitar on this single, contributing a colorful yet tasteful solo, that can only be done by not just her but by her guitar as well. In short, the pair work well together, bringing out a tone of rhythm that sounds very delightful and peaceful at that.
Buy: https://www.cdbaby.com/cd/fernandoharkless
If that was not enough for you, the song continues the producing tone with it being produced by yet David Case and American hit wonder of a maker Preston Glass. Whose work was previously done on another track called "I Remember" performed by Miss Terry Dexter and Mr. Johnny Manuel.
"Light Up Your Love", tends to be one of those infectious songs, with such a strong melody that it just makes this track flow so smoothly with the music, it just works really well throughout. If this track could be heard upon the radio, it would likely if not most definitely heard on some of today's most popular jazz stations, around the Los Angeles County, like 94.7 The Wave's station, if not other noticeable stations, that broadcasts such enjoyable tunes.
In the end, when it comes to Fernando Harkless, as a performer, he has got the style, and even the look to go along with it, that just creates a style of fashion and class, that any generation, the past or present, can breathe in and enjoy from. That is what happens when listening to such a track as "Light Up Your Love", while it may bring out the love and passion for some, to others it can still be one of those tracks, you can hear time and time again. It has that source of music that brings a breath of fresh air, if you will, having it be a modernized tone of music, for all to hear.
https://www.facebook.com/Fernandoharklessentertainment
By: Natalie Perez – www.nataliezworld.com – natalieannnperez@gmail.com