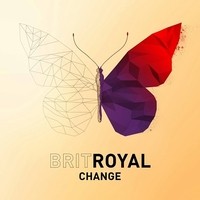 Numerous live appearances and working with top flight producers and songwriting talents like Mikal Blue and J.R. Richards of Dishwalla has propelled UK based Brit Royal to the forefront of promising new acts. Their debut EP made a big impression on critics and fans alike, but it's their first full length release entitled London that perches them on the edge of global stardom. The thirteen track release contains an immense amount of artistic and musical energy clearly illustrated in the band's single "Change" (Dream Mix). It has often been said that creating a truly memorable work, in any artistic medium, is a natural thing rather than something that creative imaginations can force. This piece of advice holds true in this instance. The band consists of twin brother Kais and Mazin Oliver and their expected chemistry comes through quite vividly during this four minute song. This duo is poised to stand at the vanguard of music's generation and the creativity fueling their performances will enchant many.
The song is, basically, piano and voice. The spartan ingredients of "Change", however, will never bore listeners. The piano playing brings a march-like quality and understated melodic flourish together in a seamless way and serves as a perfect accompaniment for the voice. The recording invests the music with warmth that tempers the serious subject matter, but likewise surrounds it with the dramatic sonic landscape that it deserves. It is never too cluttered or busy. "Change" unfolds slowly, organically, with a naturalness that makes it sound like a heartfelt and spontaneous expression – moreover, the production suggests a live performance rather than a studio confection. The immediacy adds much. The running time is ideal and there are a number of clear high points in the song that are honestly arrived at – in other words, there are no shortcuts or pandering at work in Brit Royal's musical wheelhouse.
The vocals are characterized by the same warmth. They match the musical high points with an intensely melodic and immaculately orchestrated vocal melody. It's a component of the track every bit as orchestrated, but just as natural, as the song's musical construction. Despite the duo's relative inexperience and youth, they exhibit steadiness in every area and cool, unshakable confidence. This is no mirage. Brit Royal sound like a much more experienced recording and live unit. More evidence of that comes from the lyrical content. There's certainly plenty of antecedents in modern pop music history for the song's subject matter, but they express it in a highly individual and idiosyncratic fashion that personalizes it for the duo. There's no tortured moments, no hand-wringing in this song, but the performance certainly suggests that the attitudes and emotions expressed therein come straight from their experiences. The naysayers decrying the vapidity of modern music would do themselves a favor to take this in. Brit Royal's substantive talents are far removed from vacuous Top 40-styled tripe and, instead, constitute a musical portrait of artists as young men. We will undoubtedly be hearing more from these two as the years go on and the mark they leave, based on a song like this, will be lasting.
Artwork by Blayze Reid
OFFICIAL PAGE: http://www.britroyalmusic.com/
INSTAGRAM: https://www.instagram.com/britroyalmusic/
TWITTER: https://twitter.com/BritRoyalMusic
Written by: Steven Burris