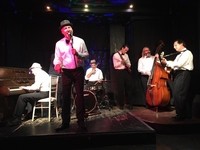 Possessing a strong sense of humor is Tenderhooks' dry witticisms on "Brighton Is Falling". The carnival-like atmosphere works wonders for the song, from the glistening organ vamps to the dry delivery of the biting lyrics. Over the course of the song the way that Tenderhooks sets the tone feels masterful. Everything simply works as the song unfurls revealing a wide variety of color throughout. Right at the very heart of the sound are the poignant observations that help to give the song a true sense of place. Utilizing a strange, almost surreal, melody the song is as clever as it is catchy.
Not a moment is wasted as Tenderhooks settles into a compelling groove. From there things move along quite quickly. Attention to detail means that the chorus feels joyful, even as it explores the slow decay of a seaside town. Delivery has an interesting rhythm to it with the piano punctuating the song's jovial despair. Layer upon layer of sound come together wonderfully, from the rollicking rhythm to the careening keyboards that nicely interact to create a vast sea of sound. By focusing on those who come to Brighton rather than those who live there, the song shows exactly how neglected the city is for its residents, while at the same time catering to those who visit. Towards the very end of the song the action peaks as the song descends into a beautiful blur.
https://www.facebook.com/tenderhooks/
Tenderhooks delve deep into a classic psychedelic rock sound with a modern twist on the fantastic fun of "Brighton Is Falling".
By – beachsloth.com