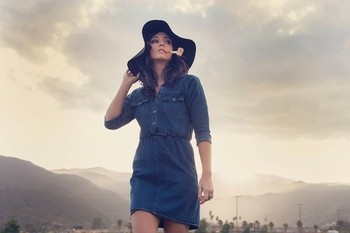 So we are back at it. Feel like a while since my last post but we are back and feeling great about it. I also love the guest today who is a beautiful and talented singer/songwriter, Gina Roode. We have so much to chat with Gina about but before that lets do some music news. First up, fan-powered event crowdsourcing platform Stagelink.com expands to the U.S. after concluding a seven-digit total seed financing including an extension. With Stagelink content creators of all kinds uncover fan demand for potential live appearances to produce successful, risk-free events and tours – https://stagelink.com. Next up Increasing tax paid by music venues could pose a major threat to the UK's live music scene, experts have warned. The organizers of Britain's first live music census, which starts at midday on 9 March, say a major overhaul of commercial property rates – crucial details of which will be revealed in Wednesday's Budget – could amount to a huge rise in costs and force many venues to close. Now lets get to Gina Roode. I caught wind of Gina with her single/video "Half-A-Hallelujah." From there I knew we had to have her on. Join us as we speak about getting into music, life in gorgeous Corona, California, her music video style, and much more!
Stoli: Where are we talking from today and are you excited for spring?
Gina: We are talking from my couch at my house in Corona and I am very excited for spring. I have some new music coming out in April!
Stoli: Offer us a brief history of how music entered your life and it became more than a hobby?
Gina: Music started for me when I was around 13 and I started to really listen to music. I got this little cheap guitar and started playing simple chords and taught myself and as years went on I realized I had a natural ability to play instrumentals and by the time I was around 20 I started playing live music at a wine bar and when I played in front of people and saw their reactions I knew it was what I wanted to do for the rest of my life.
Stoli: How have your friends/family supported your musical ambitions?
Gina: I honestly would not have continued to pursue this career if it wasn't for my family. So many times I have gotten discouraged from this industry but they never let me quit and encouraged me to continue to pursue my dreams. They truly believe in me.
Stoli: You have spent most of your life in gorgeous Corona, California. How has living there helped shape your sound & lyrical content?
Gina: I've always been outdoorsy and thats definitely helped shape my sound and lyrical content. I live not too far from the beach and I always find that it really inspires me to be out by the ocean.
Stoli: What kind of mental state do you find you are most creative and what inspires you to write?
Gina: I love watching movies I always feel if I watch a good movie it puts me in a creative mood to write a song similar to the theme of the movie or show I've watched.
Stoli: You recently won SongwriterUniverse "Best Song Of The Month" for "Half-A-Hallelujah." How does it feel to put music out and being recognized like that?
Gina: It was amazing to get song of the month! It confirms to me that the stuff I am writing right now really is great music. It really has motivated me even more.
Stoli: I love that song "Half-A-Hallelujah" as well. What is that song about to you and what inspired that song?
Gina: Half-A-Hallelujah is definitely about struggles in life. When you have those moments of just wanting to give up because life is too much of a battle sometimes but there still is something in you that is holding and pushing you to continue. Its a song about hope and never giving up no matter how hard life can be.
Stoli: I really like your videos – https://www.ginaroode.com/music. I find them powerful yet simple. How do you come up with the visual concept to match the song?
Gina: Thanks! I always like to relate music to nature and the simple things in life and I always want the music to be main focus. I always try to have the video flow along side of the song.
Stoli: Who are two other female singer/songwriters that you listen to and admire?
Gina: There are so many artists that are so talented but if I had to choose two I would say right now I like Dorothy and Sarah Jarosz. Dorothy has that amazing bluesy rock voice and Sarah Jarosz really captures the beauty of bluegrass in a new way. They are both amazing.
Stoli: When you are not making music what else do you enjoy?
Gina: When I'm not making music I usually enjoy Hiking and Paddleboarding and Archery. I'm always doing some sort of outdoor activity.
Stoli: What is coming up for Gina Roode and where you @ online?
Gina: Actually I just wrapped up filming a new music video for my next single "Lie Your Way Back Home" Its definitely going to have more of a country vibe. I am super excited and I cant wait to release it.