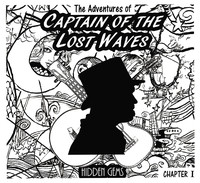 With a true theatrical flair, Captain Of The Lost Waves displays an uncanny knack for spinning beautiful storytelling on the lovely "Hidden Gems". Instrumentally rich the way the songs unfurl show a true talent for form. Over the course of the album the melodies shimmer in the distance as the passionate vocals take center stage. By opting for such an approach Captain Of The Lost Waves is able to bring a vaudeville temperament that incorporates folk, country, big band, and a little hint of classical into the album.
"Grand National" begins the album on a majestic note, setting the tone for what follows. The multi-faceted sound works wonders in creating a hopeful uplifting message. Far more mysterious is the eerie surrealism of "Another Planet" with a twee sensibility incorporated within the folk leanings. Rather playful is the giddy energy of "Danger". Easily the highlight of the album the jaunty tempos works to the song's benefit, punctuating the absurdity buried deep in the song's DNA. Pastoral sounds emanate from "Summer". Offering a genteel buildup of sound is the spirited "This Is A Song". Breezy and bold is the passionate "Mr Many Men". "Afterlife" chooses an atmospheric style, letting a toe-tapping rhythm anchoring the entirety of the piece. Ending the album off with true grace is the finale of "Grand National Reprise" whose honeyed choir brings it to a close.
http://www.captainofthelostwaves.com/
Positively teeming with life, Captain Of The Lost Waves chooses the path less traveled on the life-affirming "Hidden Gems".
By – beachsloth.com