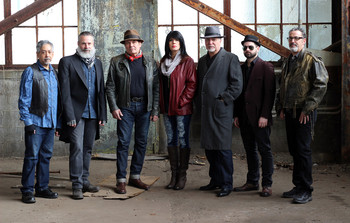 It has been a while since the multi-talented band American Nomads joined forces to bring us a new striking project with more feeling and emotion. They hit the road in 2016 gracing stages across the New York area building their image and fan base. The band is a culmination of varied talents and ages that make it more unique. They are a must see for anyone that yearns for pure talent and energy that is hard to find in today's downloading, streaming and pirating world.
What makes the band even more unique is that it carries eight members with more than a lifetime of combined musical experience. That fact alone is a testament to their success. Walter Kenul a journey man of sorts has developed a style and presence on stage that echoes the likes of Bruce Springsteen and Bob Dylan. Members like Dante DeLemos, Joseph Humann, Joe Conoscenti and Jay Rivera bring a driving force that steer the ship to new levels. We can't forget Susan Darmiento who's "Ann Wilson" like voice can send chills up anyone's spine. Last and not least is the youngest member George LaGrange whose guitar riffs takes us on a trip between the past and back to the modern sound.
During 2016 the band played at many venues one which stood out was right before Christmas where they headlined at the Studio at Webster Hall to a packed audience. It was a significant ending to the year and sign of the times to come.
The new album due out on April 21st is entitled "Ghost Highway" which is a fitting title with tracks like "Dark Thots of Mayhem" and "Selfish Mistress". Lyricist, Richard Humann has done it again with lyrics that motivate, provoke and inspire. The band has already seen success with their last single "A Revelation's Gonna Come" which not only reached 30,000 spins on radio but landed at #6 on the Billboard AC chart. In addition they passed the first round of a nomination for the Grammy Award of Best American Roots Single.
Richard says about the title track of the album "I was driving with Susan from Monument Valley, Utah to Sedona, Arizona, and it seemed like there were crosses every fifty miles or so along the highway where people had died in a car accident. I started writing the lyrics to what I called then, "Highway Crosses" and that eventually turned into "Ghost Highway." It's about traveling along life's highway with the ghost of your past with you in the car, except the ghost is really you. The band wrote the music for it, and after it was recorded it seemed like a good title for the album."
There have been whispers of the band looking to play overseas. Now they are looking at a regional tour in the States with Nashville being a priority. But they would love to be on a tour bus in the UK and throughout Europe. Currently a release party for the new album is set on the day of the release, April 21st at the club DROM (http://www.dromnyc.com). The band has performed there many times and has always managed to fill the room. They will be joined by artists VilkiKristinaBarcelona! and The Transparents. If you are bold enough to take a ride with them on the "Ghost Highway" or visit them at – http://www.AmericanNomadsBand.com.
by Nick Christophers