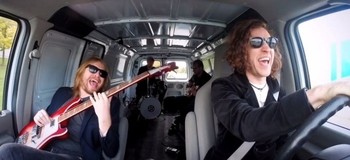 Your band is growing more popular by the day, and it's time to really hit the road on a nationwide tour. Whether you're selling out small clubs or entire arenas, getting to the venues is part of the touring adventure. Tour the U.S. like a true musician by trying these transportation options.
The Traditional Tour Bus
True musicians will travel in a tour bus at least once in their lives. These buses are outfitted with multiple beds, lounging areas and small kitchens. You can fit a handful of people into each bus while storing your gear in the lower sections under the vehicle. Depending on the size of your band and tour, you might need several tour buses. Consider this touring resource as a relatively low-cost type compared to other selections.
Considering the Van and Semi
Your band may prefer to stay in hotels so a tour bus isn't necessary. As an alternative, try a van and semi-truck combination. Rent vans to haul around your band and crew while stacking your instruments and other gear in the semi-trucks. You can drive the vehicles yourself or hire people to perform this task for you. Being a musician means that you're hauling a lot of items just to set up properly at each gig.
Chartering a Flight
When you've really made it as a band, you head out to each gig by way of a chartered flight. Some companies, like Silverhawk Aviation, know how nice it can be to travel on a chartered flight. These private planes are normally leased for your use so that they're available at each airport after you're done with a performance. Your gear may need to be hauled on the ground, but you fly in style to the next city.
Trying Commercial Airlines
Flying on a commercial airline is possible, but it can be difficult at times. Checking in your gear, sitting in separate seats and being jet-lagged from conversations across the aisle can wear on your nerves. The next gig might sound bad if you don't have enough rest and relaxation between performances. Ideally, alternate the use of commercial airlines with chartered flights so that you can truly travel the country like a professional musician.
You'll be meeting dozens of people along your touring route so remember to be courteous at all times. Touring can be mentally and physically tiring, but it's your fans that will keep you going. Be open to conversations as you move between vehicles, hotels and the venues. A musician's life is a busy and fulfilling one when you're doing it right.