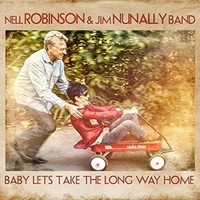 The twelve song album from Nell Robinson and the Jim Nunally Band, Baby Let's Take the Long Way Home, marks the first historic studio collaboration between one of the most prodigious vocal talents in Americana music today and a legend's row of bluegrass and country musicians backing her up with an idiosyncratic musical voice. These are authentic expressions of tradition, but such talented musicians are more than mere mimics and the songwriting skills and charisma they bring to bear helps distinguish Baby Let's Take the Long Way Home from typical modern fare in this genre. Many of Nunally's band, including himself, are veterans of the The David Grisman Bluegrass Experience and have played with numerous other giants of the style; they bring a lifetime of musical knowledge to bear on this recording and invest the five tracks with substance and considerable style.
FACEBOOK: https://www.facebook.com/nellandjim
The album begins on a distinctly joyful note with the title track. It's, arguably, the closest thing on this release to straight classic country and the steel guitar work makes that case even more strongly. The drumming has a light, but insistent, touch and rolls at all the right places. The single most important factor, however, to making this song work is the alternating vocals between Robinson and Nunally, but the instrumental breaks are equally incandescent. "I Hear a Southwind" has an unusual percussion style, not so ornate it calls attention to itself, but nonetheless unique enough it enlivens what might otherwise be a relatively average track. "Hillbilly Boy" promises some high-stepping bluegrass and these two musical forces fail to disappoint. The interplay between the string instruments sparkles brightly and Robinson and Nunally's voices, once again, mix well as co-lead singers. "I'm Brilliant" has a highly individualistic air – there's plenty of elements in this song that will remind longtime Americana fans of songs they've heard before, but there's a fatalistic air surrounding the lyric that gets a nice contrast from Robinson's otherwise endearing delivery.
The steel guitar laced shuffle of "Home's Where I Long to Be" features Nunally taking over lead vocal chores with Robinson joining him with backing vocals at key points. He doesn't have a classically fine singing voice, but there's rustic and rural qualities he embodies without ever pandering help put over songs like this. "Sophia" is one of the album's more original moments, a near-ambient roots music piece with stripped down musical textures and a ghostly vocal from Robinson. "Complicated" has a sleepy jazzy slide with a smattering of blues influence seeping into the performance. The subject matter is serious, but Robinson and the band invest it with a light touch that spins the treatment in a more playful direction. The album's finale "Mirror" has much of the same muted mood dominating a few of the album's later tracks, but it's elaborated on here in an artful way that can only compare to the earlier "Sophia". It ends the album like a leaf wafting to the ground in fall – with slow, undulating grace that lingers in the memory. Nell Robinson, Jim Nunally, and their collaborators have conspired to make some great musical memories here.
9 out of 10 stars
Lydia Hillenburg