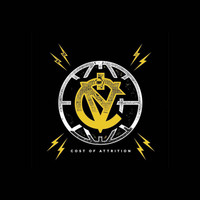 Indianapolis based Cost of Attrition is a pop rock duo whose debut EP There You Go features three songs with a larger than life sound. The members, Wheeler Castaneda (vocals, production) and Joshua Grow (instrumentals, backing vocals, engineering, production), have quickly gathered momentum with their sound and their obvious talents have scored them opening slots for national acts like Unwritten Law and The Spill Canvas. Despite their limited lineup, the band has never been a limited live act and has logged hundreds of concert appearances since their formation. This is a band who embodies the DIY aesthetic common to many modern outfits as they have handled the writing, performing, and production duties with no outside assistance. The three songs on this EP attest to their considerable skills in that area and prove, if nothing else does, that this is a duo ready for prime time.
URL: http://www.costofattrition.com/
"Not Your Psycho" is a hard-charging tune and its methodical pace hinges on some powerful guitar riffs and hammering drums. Castaneda's singing has a raw, cutting quality that matches up quite well with the musical performance – there's equal parts desperation and fury in his voice that's very memorable. There's some memorable lead guitar breaks in the song, as well, but Cost of Attrition wisely keep them brief. Despite the rough-hewn sound, there's a tangible commercial approach informing things that gives it the potential for score with a lot of listeners. "Oh Yeah" does an even better job of balancing the band's clear commercial strengths with their equally prominent artistic merits. The production will win you over from the beginning to end of There You Go – despite the clear construction, it crackles with spontaneity, sounds closely miked, and involves listeners from the first note on. The power and catchiness of the band's music is unquestionable.
The jangling acoustic guitars running through the title cut gives it distinctly different feel than the preceding tracks, but Castaneda's singing packs all of the same emotional punch that's makes these songs so memorable. It has a nice rhythm, as well, and percolates with a bright bounce from the first. There You Go only boasts three songs, but few EP's of this length provide such a representative view of a band's sound and, even more so, their potential. Cost of Attrition never restrict themselves. There is a decided pop influence filling these songs, but Castaneda and Grow understand how to incorporate various strengths into these performances without ever overwhelming the audience. Their cool confidence is audible and never overstated – these are songs never risking too much of a good thing and such boundaries on self-indulgence aren't particularly common for bands so young. These songs will, undoubtedly, take on different forms in a live setting and that's part of what makes their material so interesting. Cost of Attrition writes songs that are malleable, elastic, and illustrate their early mastery of their chosen form. They will only grow from here and coming in on the ground floor is a heady experience.
9 out of 10 stars
TWITTER: https://twitter.com/costofattrition
Jason Hillenburg