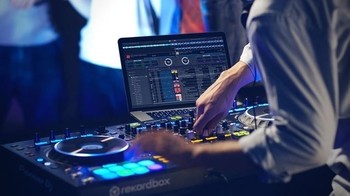 Playing music that gets people dancing is the DJ's gig in life. However, like many creative jobs, it's not as simple as it looks. Getting venue owners and party promoters to hire you is half the battle. How well you manage those relationships, once you build them, will determine if you're a true turntable contender, or a flash in the pan.
Develop a Professional Pitch
Brainstorm a 60-second pitch for new clients that shows how you'll boost the club's business. Instead of passing out a CD, or asking to spin outright, you should ask to schedule a meeting. Then follow up with your proposal: "I play X musical genre, and have X number of friends on my list, but I'm looking for other options. Let's talk about your Thursday nights."
Handle Requests Tactfully
Determine how to handle requests that kill the vibe you build, such as a patron who wants to hear speed metal on country music night. If your client makes the request, you probably have no choice, if you want to have that client's business of course. For anyone else, decide if you'll just say no, ask to play a different song, or slot their request during slower times. Taking a proactive stance now saves lots of headaches later.
Seek Constructive Feedback
If a client plans on posting a review, email them for feedback about your performance, so you can address any issues before they go public they go public, this will help mitigate any possible problems that might arise. If you get negative feedback, avoid responding in a negative manner, this can easily damage your reputation. Acknowledge that you didn't meet expectations, but still thank the client for the opportunity he gave you.
Work Closely With Clients
Special occasions like weddings or graduation parties demand extra attention to detail, so show the client they're worth it. Some companies, like Royal Entertainment, know that you need to make your client's feel special. Meet several weeks before the event, so you can work out issues like dedications, first dance songs, requests, and toasts, the Book More Brides website suggests. Then you won't be the DJ who reduces the bride to tears by dedicating a song to someone who's just passed away.
Remember, the DJ business is a relationship business. The more of them you sour, the less likely anyone hires you back. The more professional you act, the more likely you'll snag better gigs, because you understand there's more to the job than just pushing play.