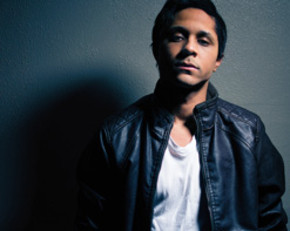 Last summer we brought you the "Famous" music video from up and coming indie pop artist Belle VEX. The video was an appetizing preview of things to come, and today we are very pleased to bring you the followup video for his soon-to-be-unleashed single "Make It Good For Her." After the release and excellent reception of his EP, 15 Minutes of Fame, this track will surely gain widespread praise from fans and fellow pop artists around the world. Immediately enrapturing listeners with an appealing vocal hook that flawlessly matches the percussive, heavy bass-oriented arrangement (compliments of Ryan Kienle from Matchbook Romance), "Make It Good For Her" seamlessly evolves into an all-out dance anthem set to infiltrate radio waves and dance floors around the world.
Belle Vex's "no holds barred" variety of beguiling electronic rock-pop and all grown up "Boy Next Door" saccharinity is a perfect anecdote to his palpable cynicism. He sings the sort of heart-on-your-sleeve music that makes you feel content and keeps your feet moving to the beat. After the release of 15 Minutes of Fame, "Famous" was listed in the Discography section in the 12th Issue of KBPS Music Magazine. Belle Vex also recently voiced a video game character for an upcoming release. With over 9,000 combined followers on Twitter and Instagram, Belle Vex has the hooks and the looks to break through within Indie Nation.
Imagine a combination of the bouncy 90′s style of pop vocals with a touch of a punk rock attitude and combine them with contemporary EDM grooves. That's the sort of ambiance listeners get when listening to Belle Vex's much anticipated hit, "Make It Good For Her." Showing off his acting abilities as a TV Host on a show called, "How the World Works," this video teaches viewers how to get the woman you want and how to mutually benefit from each other's presence. Dripping with irony and a bit of reticent cynicism, this video imparts wisdom on the ironies and double standards in society, portraying a man changing his appearance and attitude that magically gets him the girl. This artfully crafted, fully realized, high quality video will have viewers tapping their feet, charmed by this sinister beat and Belle Vex's starlit performance.