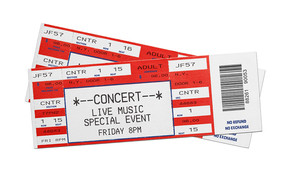 Going to concerts is a lot of fun and seeing your favourite band perform can be the experience of a lifetime. Yet concert tickets are constantly becoming harder to get and more expensive on your wallet. So, what can you do when you want to see a specific performance, but you're looking for tickets on the last minute? Here are ways to save money on last-minute concert tickets.
Use online portals
The easiest way to find concert tickets in today's world is by looking on the internet. There are tons of ticket portals that offer cheap tickets to all sorts of events, big and small. Furthermore, you can even find sites specifically aimed at finding last minute deal. The great thing about these is that you often don't have to pay crazy prices – sites such as Get Me In offer vouchers that can help you find affordable tickets for even the most sought after concerts.
When you are using online portals, make sure you understand how the system works. You need to know whether the tickets are sent to you and if they are, is there enough time to get them on time. Always use reliable ticketing portals and avoid buying concert tickets from private persons, unless you are able to pay after you get the tickets. If you find a deal that looks too good to be true, ensure you aren't chasing a dream. Make sure you're not being scammed by looking for those signs and ensuring you have proof that the deal is real. While you want to be quick to ensure you don't miss out on the deal, you don't want to rush into a scam and lose your money.
Leave it to the last minute
Sometimes you can find last-minute deals cheaper when you literally leave it to the last minute. This means checking for the ticket on the day of the concert. Last tickets from the door can be a lot cheaper than the tickets on sale three days before the event. So, if you can accept that you may not get it, you can just wait until the very last minute.
Buying tickets on the last minute can be a bit of a hassle, so be prepared. You can check directly with the venue and agree when and how you can pick up the tickets. If you are using ticket portals or other online sources, ensure you know how the tickets can be delivered to you.
Haggle with the seller
You can cut the costs of concert tickets by talking directly with the seller, such as the venue or the concert promoter. The secret is to learn to haggle for the tickets – be honest about your budget and make sure the concert organiser understands the value of selling the tickets to you. When you are haggling, you need to remember to stand tall and stick to your guns. But you don't want to appear rude and it's always better to sweeten the mood by complimenting the person you are haggling with.
Swap services
If you really want to see a concert, but you can't seem to find affordable tickets, you need to swap your services with someone that has them. If your friends have tickets, suggest a ticket swap or provide them with a free meal for the price of the ticket. You can even do this online on social media – you buy someone dinner or send them to movies if they give you their concert ticket. You can even try this tactic with the venue.
Volunteer for the venue
Another clever way to get in is by volunteering for the venue or even the specific band. You can often get the opportunity to watch the performance live or even receive free tickets to events and concerts. When it comes to volunteering, you're not just getting in to see the concert for free; you are also building up valuable job experience for the future. Volunteering opportunities are especially great ways to get into festivals – a perfect way to spend your summer.
Join seat filler services
It's also possible to get in for free through different seat filler services. These are systems where people add their interest to attend specific types of events, not just concerts, and the company e-mails them if they require someone to come and 'fill a seat'. You don't have to pay for anything and you get to see amazing events live. These naturally won't guarantee you get in for the events you want, but it can be a cool way to explore new bands and other such events.
So, next time you are looking to find tickets to a concert on the last minute, use these tricks and tips to cut the price of your tickets. Finding affordable concert tickets isn't impossible with a bit of planning and willingness to work for your enjoyment.