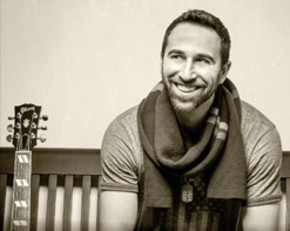 It is now becoming evident that My Silent Bravery is chock-full of authentic hits. Matt Wade's new single "Face To Face" from the acoustic version of his latest album, Breakthrough, is no exception. Last July we brought you Bay Stater Matt Wade's melodically contagious, 'Drunk Off the Sun." Reminiscent of Jason Mraz and Train, it was the perfect summer anthem. As summer began to transition into fall, Wade gave us a sobering tale depicted by taking his viewers on a backwards journey through the events that lead to a relationship-ending blow out with "Warning Signs." "Face To Face" is a tune that veers slightly away from the whimsical hopefulness of Wade's usual work, but stays true to his typical theme of redemption and nostalgia. Fans will surely develop an unmistakable ache in their chests with this tune filled with yearning and restitution.
http://www.mysilentbravery.com/
My Silent Bravery released its new album Breakthrough on September 28, 2016. Wade had already released the album's first two singles prior to the album's release and the song and video for "Drunk off the Sun" has already surpassed half a million views on YouTube, trended overseas and reached #1 on YouTube's most popular chart in Brazil and cracked the top ten in Norway, Finland, and Sweden. The video was also featured on AXSTV programming reaching over 53 million homes. "Drunk Off the Sun" was also featured on United Airlines' playlist, "The Hits List," at 35,000 feet altitude throughout the summer, globally. The albums second single and video, "Warning Signs" also trended overseas on YouTube and was a finalist in the 2016 International Acoustic Music Awards. "Warning Signs" was most recently featured on XM Sirius Satellite radio station, "XM The Pulse" on Train Tracks with Pat Monahan.
Matt Wade wears his heart on his sleeve in his newest video for the acoustic version of "Face To Face." Scenes starring an unmoved and seemingly dispassionate partner going about her daily life without worry contrast with the representation of pain and unsuccessful vying for attention that Wade desperately tries to achieve. Channeling the age-old struggle of unrequited love, Vassili Shields calls upon his artistic prowess once again to illustrate the anguish and openness My Silent Bravery brings to the song. As Wade follows this poker-faced woman around like a ghost fueled by regret and wanting, it becomes apparent that the relationship is beyond recovery. Viewers will have a tough time not feeling sympathy for Wade as he personifies the five stages of grief as his woman slips through his hands.