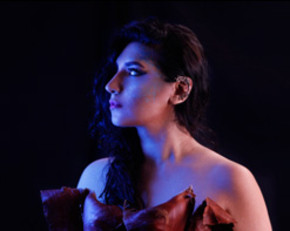 While growing up in her native of Iran and in a multi-cultural family, Maryama (Maryam Mirbagheri) studied guitar with rock stars such as Ardavan Anzabipour and Homayoun Majdzadeh and soon continued her journey as a young girl in North California. This unique blend of cultures has allowed her to craft a unique sound that brilliantly distorts the line between jazz, soul and world music. She now calls Los Angeles home, but her Iranian roots still bleed through in her music in the most magical way. Case in point is her new single, "Where The Mermaids Are," which will be sure to have you swaying back and forth as you imagine yourself weightless, floating in a sea of serenity.
Mirbagheri studied with Joe Gilman(Brubeck, Bobby Hutcherson), one of her biggest inspirations, at American River College where she holds two Associates Degrees in Jazz Voice and Music Composition. She also holds a Bachelor's of Fine Arts in Music Composition and Film Music from the California Institute of the Arts where she studied with Ulrich Krieger(Lou Reed etc), Pirayeh Pourafar, and Houman Pourmehdi among many others. Maryam is presently working on her Master's Degree from the California Institute of the Arts.
Not only a talented musician, she also possesses an impressive list of accolades. Maryama has performed in prestigious international music festivals such as the Fajr International Music Festival and the Monterey Jazz Festival(student). She has competed and placed in the Iranian International Youth Competition in the Music Composition category, where she places as a semi-finalist, and in the Music Association of California Community Colleges' Composition Competition where she placed 2nd in the state of California. She has won a Jazz Downbeat Award with ARC Advanced Vocal Jazz Ensemble. In 2016 she was nominated for a Hollywood Music in Media Award and was the recipient of Iranian American Scholarship Fund in the music category. She has proudly composed pieces for prestigious groups such as Vox Musica Vocal Ensemble and was chosen as Girl Trip, MUZIC and London's Student Pocket magazine's artist of the month.