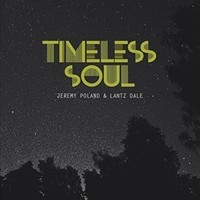 The success of Jeremy Poland's first album Southbound Heart didn't leave him feeling hidebound to pursue the same mold on his follow-up. Timeless Soul finds him teaming with Lantz Dale for a rousing sophomore success. Dale, Poland's producer on the debut Southbound Heart, brings a distinctly different personal background and musical pedigree to the project that stands in interesting juxtaposition to Poland's own story and they've adopted an acoustic approach for Timeless Soul's seven songs remarkably managing to bring strains from their respective musical DNA's into play. Their shared chemistry has been further developed by nearly 150 live performances the duo made in 2016 and the songs on this release show off that chemistry every step of the way. Their talents dovetail into one another's without ever sounding like disparate musical visions and that makes Timeless Soul one of the early surprise successes of the 2017 musical year.
URL: http://www.jeremypolandmusic.com
Poland might have shifted to primarily acoustic textures for this release, but he never entirely abandons the pop/rock style that made Southbound Heart so successful. Timeless Soul's opening track "All Yours Now" has an undeniable catchy side to accompany its strong musicianship and guitar playing. The value of song construction is well illustrated too. "All Yours Now" never meanders or works in useless, arbitrary bits. "In The Light" is rendered with almost impossible delicacy well past the half way point before climaxing with a carefully nuanced crescendo and fantastic vocal harmonies. If there's a pop edge to this track, it's practically art pop with how it achieves its effects through repetition and accumulation rather than showing all of its nuance at once. "I'm a Wreck" is an amazing tune. The lyrics are bitterly unsentimental and make no excuses, but the musical backing is as crystalline and carefully wrought as anywhere else on Timeless Soul. It makes quite an effect to hear such sweet vocal harmonies singing about what a wreck the singer is. "Where Did It Go?" would make one hell of a rock song, but it makes an equally striding and powerful song on acoustic guitars. There's definitely a much sharper suggestion of electrified acoustic guitars here than elsewhere on Timeless Soul, but it doesn't bring the songwriting down any. Instead, it suggests more of the song's rock and roll character while never giving up any of the opposing end of the sonic spectrum.
There's a more melancholy mood pervading "Sunday Afternoon" that fits the lyric's themes of longing and emptiness. It crescendos with the expected big chorus, but Poland and Lantz tweak the noses of their listeners a bit with some clever drumming variations that spice up the inevitable. The final song and title cut "Timeless Soul" is one of the most deeply felt songs on this release. Unlike the preceding two songs, "Timeless Soul" doesn't go in for the typical big moments, but takes a more exploratory route into the song instead. Poland's singing has a passionate edge here, as well, missing from many of the earlier performances. It's a great closer to an impressive effort and certainly sets the stage for a longer future collaboration.
8 out of 10 stars
FACEBOOK: https://www.facebook.com/jeremypolandband/?ref=hl
Jason Hillenburg