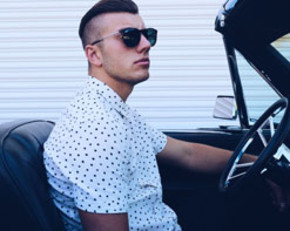 Alex Di Leo made a huge impression with his previous video for "Waking Up." The cinematic effort was a beautiful compliment to the grandeur and inspirational execution of the single. For his new single "So We Go," he has streamlined the narrative to deliver a song and video that is a straight forward reminder of the power of love and how all consuming it can be.
The south Florida native has consistently been perfecting his craft ever since striking out on his own after years as a member of his rock group Wyld Fly. Though his sound may have softened since Wyld Fly, his attention to songwriting and melody is sharper than ever. Look no further than his new EP, So We Go, for hints of inspiration from artists like Coldplay, Vance Joy, Arcade Fire, and more. Every time he puts his fingers to the keys and his pen to the paper he's on a mission to create a true work of art. The most impressive part, however, is the realization that after all of the hard work Alex ends up making it all sound so incredibly natural.
Few videos will lift your spirits and put a spring in your step like "So We Go." The clip follows Alex and a stunning beauty on their adventures around the LA area. Whether it be cruising up the Pacific Coast Highway, exploring the beaches and canyons, or taking in the Los Angeles night from a downtown warehouse rooftop, their connection is magnetic and undeniable. While their time together speaks volumes, it's the scattered shots of them apart that really accentuates their desire to be together. The repeated lines of "If you love her say, if you love her stay" perfectly captures the belief that when you find "the one" you never let them go.