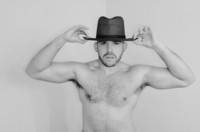 Dario Black known to many to take the genres of EDM and pop, to create his own flare of the two genres. Thus, he has launched a new song and single called "Don't Let Go (No Te Vayas)" off his new EP "Temporary Love". In an interview he did recently he says that this new track is about love, and how he would feel when he met that special someone, and what he's said is correct. The lyrical context is very loving, passionate, and can connect with the emotions he is producing here.
That said, he also produced this track, he says he usually comes up with the melody and lyrics first, then goes into producing mode, and this was the ending results. As far as the song itself, it is very rhythm based, having the tones working with one another, to keep a never ending beat going. It makes the music come more alive, keeping the tone of the music flowing, and as said, never ending, as if the song won't end. But of course it does, this 3 minute and 35 second track is in short entertaining.
Q&A: http://www.electrowow.net/2017/01/interview-questions-and-answers-with-dario-black.html
As far as what type of artist Dario Black is, he is a Latino/Hispanic so he has his Latin roots within his music, that will surely connect well within the Latino audience as it were, But he says that this song has a universal theme, that it will connect with everyone. While there are some Spanish parts in it, it is a song made for everyone plain and simple.
If you had to go and compare Dario Black, his style is a lot like Ricky Martin meets Enrique Iglesias. It's a cross between these two artists, to create his own take on them, except it sways away from them, and stands on its own, to be a style that is unique and creative. Just has that twist of a Latin musician that gives it that interesting flare and spice.
By: Natalie Perez – natalieannnperez@gmail.com