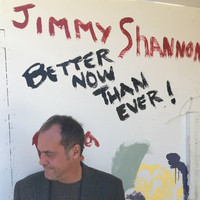 The latest full length album from songwriter Jimmy Shannon, Better Now than Ever, marks a new creative high for this fine musician. The eleven song collection plays with the same vibrancy and inspiration listeners might expect from a debuting young prodigy while still exhibiting the canniness and invention veterans bring to bear. Unlike many players in this genre, Shannon doesn't confine his creative vision to an instrumental context and his stylishness extends far past one musical aesthetic. There's considerable melody working through these songs and the material is universally accessible without ever sacrificing its technical credentials. Better Now than Ever isn't some idle promise; Shannon is clearly working near or at the peak of his powers and has surrounded himself with a cadre of top flight collaborators who help him realizing his artistic vision.
https://soundcloud.com/jimm-shannon/hard-to-come-by-m2
The album's first song, "He Said… She Said" is a duet with stylish guitar lines and a tasteful approach to music making. This tasteful approach shouldn't imply neutering; there's a great deal of emotion fueling both male and female voices in this piece and the clever idea of alternating lines make for an entertaining listening experience. The violin accompanying the vocals adds another musically compelling voice to the song. "Hometown" comes off as a much more personal track and certainly visits a common theme amongst serious singer/songwriters, but Shannon never opts for a predictable approach and his own individualistic slant on the subject clearly comes through. His arrangements often embrace an minimalistic, uncluttered sound suiting their subject matter and allowing listeners to focus on the across the board substance of a song rather than particular elements to the exclusion of others. Some authoritative drumming opens "I Don't Want To Lose You" before horns and scintillating guitar lines stamp their presence on the track. It has a much sharper rock edge than anything we've heard so far and Shannon is quite credible in the role of a light rock vocalist.
There's stunningly lyrical acoustic guitar and piano weaving together on the song "Reason to Stay", but the most affecting element of the song is Jimmy Shannon's vocal. The lyrics risk sentimentality, but Shannon keeps it between the lines and ends up speaking from the heart with immense vulnerability. The piano and acoustic guitar returns on "Girl Next Door" and have a slightly surprising quasi-classical air. The melody is quite beguiling and the lyrical content bears the same unique fingerprint heard on the earlier tracks. The bluesy guitar melody opening "Over and Over" sets a delicate mood and the backing vocals joining Shannon underscore the atmosphere. It's a track with a deliberate pace that drums soon join in with, but it's deeply affecting despite its pace and even the fiery lead guitar emerging near the song's half way point fits quite nicely with the arrangement. Jimmy Shannon's Better Now than Ever has much to recommend it but, ultimately, its chief strength lies with Shannon's willingness to lay his heart bare with such artistry. This is a stirring success on every level.
9 out of 10 stars
CD BABY: https://www.cdbaby.com/cd/jimshannon12
Jason Hillenburg