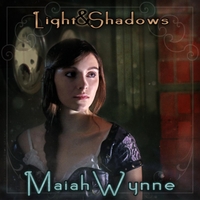 Maiah Wynne's "Lights and Shadows" displays a phenomenal range from the darkest of shadows to the brightest light. Stylistically Maiah Wynne runs the gamut from chamber pop to country to even elements of industrial. Tying all of this together is Maiah Wynne's emotive voice whose expressiveness shines throughout the collection. Attention to detail is of the utmost importance for her arrangements have a delicate fragile nature to them.
A nightmarish fervor introduces the album on the physicality of "The Haunted Song". Sounding akin to a Brothers Grimm tale, the song unfolds with great purpose. Softer in tone is the sweetness of "Love Unleashed" where the guitar work is delicate and sunny. Eerie pervades over the hovering drone of "I Got Nuthin'". With a true sense of dread informs the track as it sprawls out thanks to the help of a stripped-down guitar and dusty drums. Mournful in tone is the hushed whisper of "Monster in a Human Suit" whose string work gives the song a great elegance. Tapping into a rich folk tradition is the fantastic meditation of "Ballad for an Old Soul". For this piece Maiah Wynne's voice is delightful and helps to make the song one of the collection highlights. Tension pours out of the anxious arrangement of "The Things I Keep". Nimble on its feet is the gorgeous storytelling of "Timber the Treasure Dog". Bringing the collection to a delightful conclusion is the celebratory "Skip Hop Boop".
https://itunes.apple.com/us/album/light-shadows/id1080828270
"Lights and Shadows" reveals the sound of a true artist perfecting their craft.
By – beachsloth.com