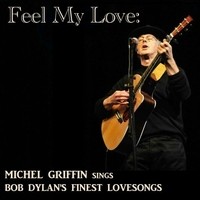 Michel Griffin treats Bob Dylan's vast body of work with the utmost of care on the tender "Feel my Love: Bob Dylan's Finest Lovesongs". With careful delicate arrangements, the songs positively shimmer and shine. Vocals serve front and center as they should, with Michel Griffin's voice imbuing the songs with a sense of intimacy. The smallest details matter most from the use of saxophones to the finger-picking that adorns much of the album. The sound has just the right poetic quality, as Bob Dylan's lyrics warrant true adoration.
Audio: http://www.michelgriffin.com/Album.php?Album=Feel+My+Love
A restrained full-band arrangement introduces the album opener "A Simple Twist of Fate". Slowing down the original is the regal work of "I Want You" one of Bob Dylan's most beloved pieces. For Michel Griffin to allow the piece to build up into a force of nature feels honest, feels right. "Where Are You Tonight? (Journey Through Dark Heat)" begins softly, before building to an intense climax, with a duel between guitar and saxophone. By far the highlight is the stripped-down style of "Girl From The North Country". Michel Griffin shows off his impeccable mastery of the guitar in its quietest moments. The blissful "Beyond the Horizon" is dreamy with a strong Americana vibe. Ornate with its impeccable arrangement is the careful "Love Minus Zero/No limit". Blues close off the album in fine fashion with the playful "Corrina Corrina".
iTunes: https://itunes.apple.com/us/album/feel-my-love-michel-griffin/id1198796045
Amazon: https://www.amazon.com/Feel-My-Love-Griffin-Lovesongs/dp/B01NCZJAOP/ref=sr_1_17
Respectful of the originals while offering his own take on these true-blue American classics, Michel Griffin's "Feel my Love: Bob Dylan's Finest Lovesongs" simply stuns.
By – beachsloth.com