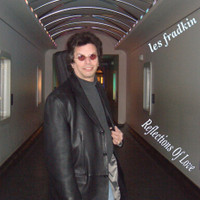 New Age is a type of genre, that has been heard of but maybe only heard once or twice for its genre. When it comes to Les Fradkin whose new song turned single "Reflections Of Love" off his new album "The New Age" set for release sometime this Spring, via Bongo Boy Records, Les Fradkin's single is in short, "interesting".
The song isn't really pop, rock, or anything along those lines, it's more instrumentally based, like a song you would hear if you were out in the wilderness, it has that wild life, picturesque type of feel and sound to it. It's like one of those types of songs you would hear at a tea shop, or when doing meditation or yoga, and you hear the noises of birds, rain, mixed together, that's somewhat, what is given from Les Fradkin.
Les Fradkin has taken his music abilities into a whole another futuristic realm of sorts, as he uses his performance combining influences ranging from such diverse styles of acts like Yanni, The Beatles, The Moody Blues and Jean Michel Jarre, to create an exciting new, new age musical vision, of his own creation and abilities. You the listener will get to experience what is created here on a musical journey if you will, that will enchant and amaze you.
Not only does Les Fradkin create such stunning music, but he is a prolific composer, producer, and a pioneer of the MIDI Guitar. He's captured the headliners like the original cast George Harrison in the mega hit Broadway show "Beatlemania" that happened way back in the 1970s. He's even played with The Ventures, while enjoying 16 #1 instrumental hits at the mp3.com website, winning several awards, and just so much more, has come his way from him being such a creative artist and musician.
"Reflections Of Love" off hi s new album "The New Age" is indeed a new age genre that will inspire, stun, and amaze you. It really captures that out of this world experience that comes to music creation and making of it. It has this over the top feel to it, keeping you entertained but also at ease as well.
Les Fradkin is one of those artists you will likely turn too every now and again, because his musical styling's are just that good. He is so creative with his style that you will want to listen to what he comes up with next. It's like watching a never ending movie or TV program, or a song that never ends, or perhaps you wouldn't ever want it to end, when listening to "Reflections Of Love".
It sure had me playing it on repeat more than once, because it's sound and styling is just so unique and so creative it is so hard to believe, its craftsmanship. He has an art and love for the music, nature, and brings it altogether with this track. It is truly one of those songs, you will not forget, or not want to listen too. You will want to listen to it, time and time again, if not even all the time.
Les Fradkin has caught the attention of me, and surely will do so with many more listeners who may have never heard of him, or his creative music before, because it is something that needs to be heard, at least once.
By: Natalie Perez – natalieannnperez@gmail.com