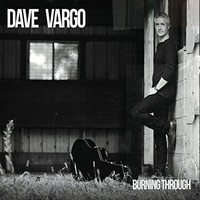 Burning Through, the first solo album from Dave Vargo, a longtime live and session guitarist for artists as varied as Whitney Houston and Rupert Holmes, is an eleven song collection leaning more towards the acoustic side of the ledger but incorporating enough edginess and rock and roll attitude that it never sounds one note or limited. His songwriting skills are great enough that following a basic template over the course of the album's running order nevertheless never makes these tracks sound dispiritingly alike. Instead, each track on Burning Through glows with its own character and Vargo shows enough engagement and vocal ability to spin them in their own distinctive directions. Despite his education at Boston's prestigious Berklee College of Music, there isn't a single moment on Burning Through that sounds academic and excessively premeditated. Instead, the songs on Burning Through roll out naturally and are sure to appeal to a wide audience.
URL: http://davevargomusic.com/
He begins the album in beguiling fashion. "Come Take Me Home" is a superbly constructed contrast escalating from a spartan acoustic opening into a full blown rock crescendo that's bookended with an equally spartan ending. Vargo has a stylish emotive edge on his vocals and the restraint of a longtime, polished singer without ever possessing a technically excellent voice. He never aspires to the same rocky heights of the opener on the album's second song "Good Enough", but it crackles with a steadier simmer than the earlier track. The songwriting is quite clever without ever losing its accessibility. Drummer Tim Pannella provides great punctuation for Vargo's sinewy lead guitar on "Choose" and the brisk musical energy beginning the song never abates or threatens to overwhelm the lyrics or vocal. "Finding My Way To You" smacks of a solid American heartland rocker with a melodic AOR sound and particularly impassioned singing. Vargo puts an exclamation point on its intensity with his brief, but fiery, soloing.
"Too Young to Be Broken" might send a shiver up your spine. It succeeds by any evaluation. If the lyrics are a purely imaginative exercise, Vargo has crafted an extraordinarily suggestive narrative. If it's, instead, songwriting culling details from Vargo's experience and turning them in a creative direction or else pure autobiography, it's just as stunning of an achievement. The acoustic accompaniment is ideal for the song and glimmers with its own rich melodic flavor. "Right Now" is a strong mid-tempo roots rocker in the vein of the album's earlier tracks and has a varied vocal melody that fits the track well. The urgency of the title is embodied well in the music. The loping, understated menace of "Don't Think Twice" has a delicate vocal from Vargo that swings with just as much grace as the instruments. There's great chemistry between Vargo and his backing band, particularly drummer Pannella, and this is likely the best example of that spark heard on the album.
Burning Through sounds like one of those moments when an intensely artistic voice, suppressed or un-credited for some time, gets a chance to step out of the shadows and erupt with a creative outburst. Dave Vargo sounds like the proverbial man unleashed, but his outburst doesn't express itself with the hurried and frantic musical musings of the young. Instead, there's a life affirming energy surrounding these songs reveling in our potential for experience and it is reflected in simple, but inspired, musical arrangements. This is a stirring success by any measure.
SOUNDCLOUD: https://soundcloud.com/djvargo
9 out of 10 stars.
Lydia Hillenburg