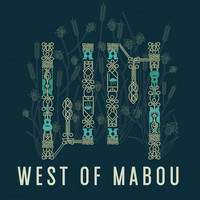 Delivered with the utmost of passion is the spirited performance of West of Mabou's self-titled album. With a distinctly Celtic flair the songs teem with life and vigor. Fiddles, bagpipes, and guitars come together to create such a compelling perfectly formed sound. The way the songs ebb and flow gives them a naturalistic hue. By opting for such an approach, completely acoustic, the songs seem to transcend any modernity focusing on an ancient celebratory sound. Even without saying a word the album has an unspoken journey one filled with dazzling displays of light.
"Rannie MacLellan" starts things off on a stellar note, as the bagpipes show off their intricate ornate style and understanding of melody. With a jaunty infectious rhythm is the freewheeling spirit of "The Foxhunter". Subdued and introspective in scope is the mellowed atmosphere of "Slip Jigs". Like a fantastic rush of sound "Gordon's Reels" is stellar with its multiple layers interacting in fantastic unexpected ways. Quite dreamy is the spacious work of "Sleeping Tune". Offering a quieter take on the sound the song has a languid pace, opting for a fragile structure to take hold. Quite glorious with its airy feel is the tender fiddle work of "E set". Drums play an important role on the bombastic beauty of "Clumsy Lover". Ending the album off on a stately note is the regal bagpipes of "The Mist Covered Mountains of Home".
Timeless and infinitely tasteful, West of Mabou's self-titled album simply soars to the skies.
By – beachsloth.com