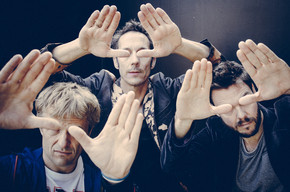 Where is it written that there may only be one Big Bang? In Summer 2015, to the day 13,8 billion years after the first one, The Universe By Ear have initiated another big boom. Since then basses tear black holes into space, drums dart like unstoppable comets through zero gravity and guitars paint stripes of fire on the horizon.
Three bold and daring musicians fom Basel/Switzerland have gartered for this mission, to lead rock to places no one has ever set foot before: a complex, colourful, suprising, hard and melodic landscape in a cosmos, in which improvised freefall and structured form coexist peacefully.
Fasten your seatbelts, because we are off to explore The Universe By Ear!
The debut-single 'Seven Pounds' was released in May 2016. The new selftitled debut album will be out on March 24th 2017 via Czar Of Revelations.