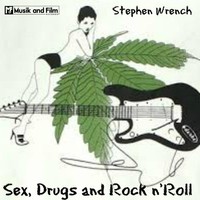 Stephen Wrench has done it all in a long musical career that's seen him work with a wildly diverse group of performers like Lynyrd Skynyrd, Molly Hatchet, Rick Springfield and Tommy Tutone , Missing Persons among many, many others. He's carved out a respected reputation as one of the most naturally gifted songwriters working in popular music thanks to his skills, naturally, but more so, his empathy for the twists and turns life often throws in our path. He's branched out, over his fifty three years in the music world, into production and band management, but the core of what he does remains tightly tethered to the fundamentals of putting the full gamut of human experiences into song. One of his latest works, "Sex, Drugs, and Rock n Roll", recalls the heady days of the 1970's and indulges in a little myth-busting about an era fans look back on with great regard. Rather than bemoaning the personal flaws, however, that fueled the behavior of some great artists and entertainers, the track "Sex, Drugs, and Rock n Roll" shares many similarities with other songs he's penned in that it depicts human frailty with a practical eye full of genuine warmth and understanding.
URL: http://stephenwrench.com/music/
The track begins with a great flourish before settling into the first verse. It takes a considered approach before finding a bright, fleet footed mid tempo groove. The drumming and piano are keys here, particularly the latter, for keeping the song full of the melody it deserves. Wrench's voice has clear, plain-spoken appeal despite its lack of range and his lyrical content follows along the same lines. The rough-hewn electric guitar work bristling along the song's edges complements Wrench's gravitas quite nicely. Other tracks from Wrench reflect other depths in his character. The acoustic based "Don't Try Tellin' That to My Heart", co-written with Wrench's daughter Anna, has a darker hue, understated backing vocals, and often beautiful guitar work. "Smokin' Tokin' Rollin' Man", originally written in 1975 and recorded in 2000 with members of Lynyrd Skynyrd and Molly Hatchet, is a raucous paean to the joys of marijuana with an appropriately spirited vocal from Wrench. He captures a bluesy growl with his voice here that's positively fun.
"If You Ain't Been To Texas" is pure classic country with a faint rock and roll spirit peeping through, but it comes much closer to the Outlaw Country school made famous by singers like Waylon Jennings and Willie Nelson, among others. It isn't difficult to imagine a performer like the deceased Jennings doing a bang up job on this in his prime and Wrench certainly captures some of that swagger with his own vocal. Another fine track from Wrench's pen, "Story of my Life", takes its inspiration from the relationship between the legendary Ray Charles and his only performing daughter Sheila Ray. The demo of the song featured on Wrench's website is carried by acoustic guitar and a stunning, bluesy vocal from Skye Bailey. Stephen Wrench's body of work speaks for itself in regards to his talents and his upcoming live dates will likely do much to further expose the man behind some of the best songwriting to emerge from American popular music in the last half century. Sometimes the great talents in our music scene don't always get the marquee billing and, instead, work in the shadows, but Wrench is stepping out in a big way and putting a name and a face to an impressive talent that's been neglected for far too long.
I-TUNES: https://itunes.apple.com/us/album/sex-drugs-rock-n-roll-single/id1185128017
Jason Hillenburg