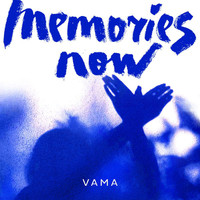 Sung and stomped with passion is Vama's triumphant "Memories Now". Rhythms beat their way to the very heart as they help to deliver the song's message with a sense of urgency. The chorus works wonders too as it nicely meshes with the overall fast-paced glorious nature of the track. Everything simply comes together as it brings elements of country, big-band, and indie rock together into a satisfying whole. By far the highlight of the song are the strong highly articulate lyrics which guide the song forward with purpose.
Wasting not a single moment Vama dive right into the thick of things. Handclaps add to the overall heft of the piece. Attention to detail means that within the colossal groove they can incorporate a wide variety of flourishes within the song. Layer upon layer of sound work together to add to the overwhelming physicality, the sense of power that permeates the piece. It is the moments where the band pulls back that it reveals a dreamy form of carpe diem. Letting the song evolve this way lets the emotional impact of the song grow ever stronger. Throughout the piece Vama never lose sight of the happiness that comes to define the track. Indeed, when they opt for a more ambient atmosphere about two thirds through the song everything feels so right.
Truly timeless in its approach and message, Vama creates a song that has the feel of a classic on "Memories Now".
https://www.facebook.com/VamaMusic
By – beachsloth.com