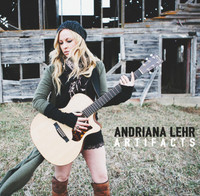 South Dakota native Andriana Lehr moves the goalposts with her second album Artifacts. Influenced by songwriters as diverse as Brandi Carlisle and Conor Oberst, the ten songs on her sophomore release represent a significant leap forward in her skills as a singer, composer, and lyricist while retaining the spark of inspiration lighting up her debut. She has lived in the Minneapolis/St. Paul area for the last ten years and has lodged numerous appearances at venues of every manner in the surrounding area. The collection receives fantastic production and the songs are all focused efforts that are never at risk of self-indulgence or sentimentality and Lehr assembles a stellar cast of supporting musicians to help realize her artistic vision. Artifacts is everything we should hope for and more from modern songwriters and establishes Lehr as a formative talent aiming and likely destined for posterity.
"Outrun the Change" is a darkly simmering gem. There are ghostly streaks of effects laden guitar sliding and chiming through the mix while Lehr's cascading range flows upward with each abbreviated line. The vocals are multi-tracked at key dramatic points and she brings equal parts emotion and technical expertise to the fine lyrics. Some of the same windswept atmosphere washes over the pensive "Ashes in the Fog". The slide guitar here is much cleaner than we heard in the opener and Lehr refrains from engaging in the same vocal pyrotechnics distinguishing the first track. "Catch 22" has a much brisker pace in comparison, an understated shuffle, and minimal instrumentation lain over top. Lehr's songs achieve their musical effects via accumulation – fills color in the frame for a chosen song over its duration until the song has emerged in full for listeners. "Bright Yellow Lights" has a much more theatrical air than any of the previous songs. It's spiked with brief horn flourishes and more effects drenched guitar, but nothing is ever spread out with a trowel line. Lehr and her collaborators, instead, show the same tastefulness here that's distinguished earlier songs. The languid and highly evocative pace of the song makes it a highlight as well.
"Putting Up A Fight" is another great lyric married to some eloquent and accessible piano playing. There's light orchestration influencing the song as well, but the prime factors in this song's success or failure is how well the musical and vocal elements come together. The album's penultimate track "Streets of Saint Paul" has more of that same emotional directness and certainly sounds ripped from the autobiography of Lehr's life. The steady and stripped back drumming is a nice complement to the straight forward acoustic guitar playing. Lehr ends Artifacts with "The Expansion of Everything". It's similar in some respects to both "Putting Up a Fight" and the previously mentioned "Streets of Saint Paul" as it will strike listeners as a very personal and highly melodic. The exquisite sensitivity shown in the arrangement leans more to Lehr's folky roots, but it's a wonderful finale. The ten songs on Artifacts will please a large cross-section of singer songwriter fans and win Andriana Lehr countless new converts.
8 out of 10 stars
TWITTER: https://twitter.com/andrianalehr
Jason Hillenburg