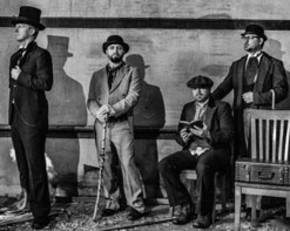 Meridian Incident is an intriguing progressive rock group from Minneapolis with an eye towards creating music that reverberates below the surface. With an impressive knack for combining compositional and technical artistry, they're akin to artists such as A Perfect Circle, Tool, Porcupine Tree, and even a touch of Pink Floyd who straddle the line between instant accessibility and long-lasting impressions. Their new single, "Yellow Wings," shows just how powerful this collective has become and why they've found themselves on some of the most prominent Twin Cities stages.
http://www.meridianincident.band/
A concept album about an intriguing hero or heroine that lives in all of us, the forthcoming Istology is based on a screen play (written by lead singer Ray Smart) that tells the story of Janey, a girl tormented by abuse as a child who embarks on an unbeaten path of self-discovery. Subtly including iconic worldwide spiritual imagery, Istology follows Janey through a journey plagued by shadows of self-destruction and loathing, to a place of understanding and acceptance of self. The album tells Janey's story as she evolves through a remarkable transformation: learning to overcome, learning to love, and finally learning to trust.
"Yellow Wings" is a rocking performance clip with a bittersweet narrative of Janey as she transforms from one world to the other. Despite the best efforts of others around here, Janey is already on a path of self-destruction that she cannot avoid. Her wings are not a pristine white like would be expected because they reflect the difficult path she's taken in life, but she's an angel nonetheless and has earned her peace. As the story plays out a performance by Meridian Incident is happening side by side, with each phrase, hit, and gutting lyric exploding with an enhanced sense of purpose and conviction.