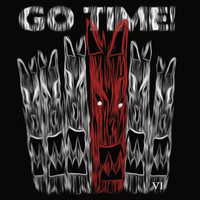 The sixth release from Chicago's Go Time! is their first release following the January 2015 unleashing of Ratsel. Many bands opting to unveil two massive collections of material in one year would likely experience some drop off in overall quality, but not this three piece. Led by singer/songwriter and lead guitarist Scott Niekelski, Go Time! pulls their sound from rock music's long glorious history with specific reference points along the way and transmutes it through their own personalities and experiences into a style and sonic template all their own. Their latest collection VI features eighteen songs that have intense focus and never run longer than six minutes. The vast majority of the tunes clock in between three and four minutes in length with a few even shorter than that, but they all share the common characteristic of refusing to waste the listeners' time.
The breezy uptempo opener "Human After All" begins things quite nicely. The guitar sound is assertive without ever being overpowering and Niekelski's lead guitar work has coherence and an emphasis on melody audiences will greatly enjoy. His vocals have a slightly nasal edge, but are otherwise clear and even have a light exhortative quality. They end the song unexpectedly by breaking away from its main motif for an electric and acoustic guitar trading brief riffs as the song fades out."Drop the Act" has a much rougher rock edge and Marko Marketti's busy bass line sometimes briefly spars with Niekelski's guitar to great effect. "Friendly Fire" comes barreling out at the listeners with a lot of power thanks to Steve Grzenia's muscular and propulsive drumming, but Niekelski's consistently melodic guitar adds a lot of firepower and strikes the right balance against the other musicians.
"Broken" is one of the album's longest tracks and finds them steering into acoustic territory with pleasing effects. This isn't a band where unplugging from their high octane power pop creates a precipitous drop off in energy and quality; instead, it's the opposite side of the same inspired coin. "Living Beyond the Fray" has a cracking guitar riff driving the track and a hint of the ominous most of the earlier tunes lack in any way. This song, in some ways, is perfectly illustrative of Go Time's approach – there's great economy here that keeps the band focused but there's, likewise, no feeling on the listener's part that the band has left something out in the interest of keeping things brief. Their punk influences bleed out a little with the romping blast generated by the song "Way Out". It has every bit of the urgency that you'd expect without ever sacrificing any of their considerable technique.
An infectious guitar riff opens "Old Habits Die Hard" and its light bounce carries over throughout the song. VI's penultimate tune, "Reading the Coordinates", has a raucous side to its instrumental performances balanced out quite nicely with another attentive and attitude-driven Niekelski vocal. VI concludes with "Straight to Snuff", another power pop guitar rave up with dissonant edges and strong melodic virtues that are the hallmark of so much top shelf material on this release. Go Time! continues to consolidate their position as one of the nation's foremost purveyors of the power pop form with their latest studio album and build on their reputation as a great band with fiery chemistry and fantastic songs.
9 out of 10 stars.
BANDCAMP: https://gotimeband.bandcamp.com/
Jason Hillenburg