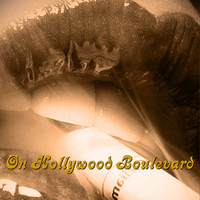 "On Hollywood Boulevard" is a glamorous, gorgeous mixture of jazz and funk displaying Billie Davies's deft skill. Luxurious textures dominate the collection as Billie Davies draws from a wide variety of sources. Everything simply glistens as the attention to tone and texture are of the utmost importance. Bass works wonders alongside the rather loose, careful rhythms that adorn the album. Mood serves an important function as Billie Davies explore vast terrains, oftentimes delving into surreal, otherworldly soundscapes.
Things start off on an impassioned note with the phenomenal opener "On Hollywood Boulevard 1". With almost a noir take on jazz, the mysterious shadowy nature of the piece results something deeply compelling. Vocals accompany the laid-back attitude of "The Girl In The Window". Delivered with a sultry sensibility, the way the song builds itself up is quite wonderful as the song unfurls in a rather celebratory spirit. Careful grooves define the ritualistic work of "Jacaronda". Some of the detail, such as the tactile percussion, gives the song a quiet intimate feeling. Funk dominates over the spirited performance, as the synthesizer sweeps give the song a chilled hue to it. Electronics and jazz come together on the narrative of "Hollywood Boulevard" where its hip-hop structure adds to the song's cache. Returning to the album's beginnings in jazz is the spacious sprawl of "On Hollywood Boulevard 2".
https://itunes.apple.com/us/album/on-hollywood-boulevard/id1174033049
Billie Davies offers a cool confident update on jazz with the playful nature of "On Hollywood Boulevard".
By – beachsloth.com