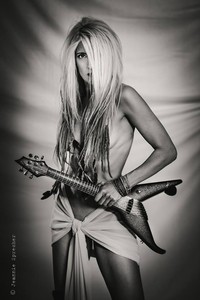 Susan Aquila's "No Where" is a delightful romp through glam and hair rock. Downright infectious in nature this song deserves to be blasted at the highest possible volume. A sense of determination dominates the piece. Rhythms are kicked out with fury, the riffs righteous, but these merely highlight the true heart of the piece: the vocals. Lyrically the song incorporates a strong sense of play. Quite stunning her vocals serve as front and center, with everything else helping to further emphasize the true joy the song celebrates.
Not a moment is wasted in getting started. Immediately diving right into the mix the song starts off with grandeur. Stirring with its delivery the string work hovers above the rest of the piece as Susan Aquila's vocals possess a rebellious sentiment to them. Over the course of the song the many elements of the sound come to work together to create a frenzied sort of din. Simply stunning, at no point does the song stop to take a breather. Rather Susan Aquila goes all in letting the song grow. By opting for this approach Susan Aquila not only lets hard rock serve the piece well but also allows for small flourishes of classical to seep into the overall sound. Towards the very end of the song Susan Aquila lets everything come to a head before it simply stops on a dime.
With "No Where" Susan Aquila creates a timeless classic, one sung with true passion and spirit.
By – Beachsloth.com