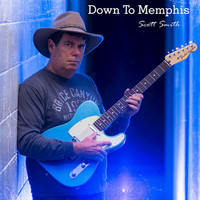 Scott Smith's "Down To Memphis" embodies the best of the country spirit. With a wild carefree spirit Scott Smith's delivery has a raw heartfelt quality to it. Front and center to the sound is Scott Smith's knack for storytelling as his songs focus on snapshots on a life lived most fully. By keeping the arrangements down to the absolute essentials there is a punchy quality to them, one that is undeniably inviting. A sense of honesty and earnest makes the entire album quite compelling, as does the intimate nature of the stories.
The opening title track works wonders. A driving spirit guides the song forward as Scott Smith celebrates the history of what lead him to this precise moment, of all those famed musicians who changed music forever from Johnny Cash to Elvis. Downright triumphant is the celebration of relief from the daily grind of "Just Another Saturday Night". Offering a look at how people escape in music is quite soothing. Rich and luxuriant is the spacious sound of "Hourglass" where Scott Smith incorporates the jazz and blues in the collection highlight. Nimble guitar work graces the giddy "Skeleton and Roses". Ending the collection off on a note of elegance is the graceful "Top of the World" whose delicate fragile arrangement gives has a sense of warmth.
With "Down To Memphis" Scott Smith delivers a compelling soundtrack to those who have found themselves wandering, searching for purpose, and hoping one day to quench their wanderlust.
By – beachsloth.com