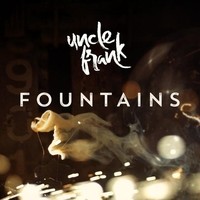 The first single from the Uncle Frank Band's album Love Lion finds Frank, one third of the popular band the Fun Lovin' Criminals, taking his Leicester, England based five piece to new heights with a song that invokes all the best of eighties pop with some meaningful songwriter that never panders to listeners. The band has quickly earned a reputation as one of the UK's best musical exports thanks to their ability to present thoroughly modern music that, nevertheless, references influences that fans will readily recognize. Uncle Frank, the stage name of Frank Benbini, and his chief collaborator/guitarist Naim Cortazzi are highly respected producers in the electronic dance music genre, but their first album as Uncle Frank and this taste of their upcoming second album further solidifies their standing as among the best pop performers working today.
URL: http://www.unclefrankband.com/
The song doesn't run over three minutes and, as such, Uncle Frank heads straight for the chorus. Their lyrical content is quite interesting. There's a longing in the lyrics for transformation that Benbini puts over with surprising delicacy. He has a clear vision of how to meld his voice to the song and they work quite well together. Much of the song, naturally, is dominated by keyboards and stripped down drumming that keeps driving straight ahead from the first seconds. It backs off at key points for dramatic effect that's sure to make the song even more memorable for listeners. The fat bass notes stay simple throughout, but there's an art about the marriage between percussion and bass that the Uncle Frank Band have clearly mastered.
There is a strong similarity between the song and the work of Nile Rodgers with his seminal 1980's dance and pop outfit Chic. It isn't imitative however. The great performers may wear their influences on their sleeves, but the best of the best take those influences and transmute them through their own talents and experiences to produce singular works of musical art. "Fountains" works on a higher level than much of Chic's work meaning that the aim isn't solely entertainment. It is geared extremely well to appeal to audiences on a base level with music that physically provokes listeners but, as mentioned earlier, Uncle Frank clearly aspires to do more than just get you moving. These are lyrics that can resonate with any listener who longs to get out of a bad patch and rise above negative consequences.
Based on this single alone, it is clear that Uncle Frank's forthcoming album will likely build on and maybe even outstrip the considerable accomplishments of their debut. There is a retro sound dominating the song but it is presented in a completely modern context with believability and a surprising amount of charisma. The United Kingdom has always been a hotbed for cutting edge electronic dance music, much more so on average than their American counterparts, but "Fountains" won't just appeal to an European sensibility. There's something here for everyone who loves the genre and even for those who cynically suspect it has little to offer.
INSTAGRAM: https://www.instagram.com/unclefrankmusic/
Jason Hillenburg