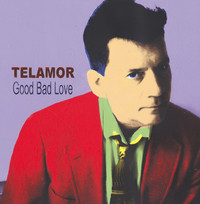 Sung with passion and an anxiety reminiscent of the Talking Heads, Telamor's "Good Bad Love" is a pure joy. The jerky rhythms, the 70s and 80s alt rock stylings, everything simply works. By far the heart of the album is the Tom Hauck's clever, concise lyricism. Possessing a poetic quality to it the songs simply unfurl in a dazzling display. These songs are imbued with memorable melodies, outstanding rhythms, and an overall classic sound. "Good Bad Love" is best taken in for the way the songs interact is rather gorgeous. Pacing is done with the utmost of care, as Telamor goes from a full-on driving rhythm to dreamier textures.
"My Baby" starts the album off on a high note, as the way the song builds itself up is deeply satisfying. Mellowed to its core is the moody "Count the Days". A playful sensibility defines the contradictory emotions of "Nobody Really Cares if You Don't Go to the Party". Easily the best song on the album is the title track "Good Bad Love". Telamor's voice is commanding as the song veers from full-on blast of sound to the spacy, contemplative moments. Delicate arrangements define the light on its feet spirit of "You Still Stand". A spirited cover comes on "Human Performance" where Telamor does great work doing Parquet Courts true justice. Bringing the album to a satisfying conclusion is hope of "Hey Mr. White".
Telamor's "Good Bad Love" is an album that simply stuns with its earnest, raw, intimate feeling.
https://www.facebook.com/TelamorMusic