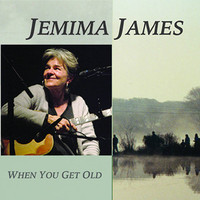 Jemima James, thanks to some unexpected turns of fate, is able to follow up her debut album At Longview Farm with its successor, When You Get Old, at the same time. The latter is a thirteen song effort that revisits a couple of tracks from At Longview Farm but, otherwise, resolutely puts its best foot forward with eleven brand new compositions that solidifies her claim to being among the best singer/songwriters who came out of the 1970's and still playing today. Much like the earlier album, first written and recorded in 1979, When You Get Old demonstrates a relaxed command over Americana musical styles, but her stylistic context is much more extensive than before and incorporates a variety of sounds not heard on At Longview Farm. The production, naturally, has modern clarity and sonic balance that seems to place James' voice and her accompanying players in the room with you and has a warm, live sound throughout.
Primary URL: http://www.studiowner.com/essays/essay.asp?books=0&pagnum=158
The title song is a lightly rollicking cut that shows James' voice in excellent form. The same unassuming confidence characterizing her youthful performances remains intact, but there's an added wry and wise humor permeating the song that can only be ascribed to her maturity as a person and performer. "Magician" is a much more solidly folk song served well by her delivery and vocal tone. It has a laid back traditional country music feel, primarily thanks to the ghostly steel guitar running through the song, but it never overplays those tropes. Fiddle and harmonica fill the mid-tempo "Beaver Moon" with a wider variety of musical voices than the audience hears on the first two tracks and its unusual melody isn't so unfamiliar as to seem alien and sticks with the listener after the first hearing.
There's a more stripped back feel investing When You Get Old than what James opted for on At Longview Farm. The choice is a success for songs like "If I Could Only Fly", in particular, because the material is so clearly tailored for a spartan musical setting. James' voice is likely much stronger than the approach she takes on songs like this, but her understanding of the delicacy tracks such as this require is a major component in the album's ultimate success. The humor of "If It's the End" isn't pushed too hard onto the listener and is, therefore, all the more appealing, but it's stylish musical touches like the understated, snaky slide guitar lines that give the song vivid color. "Sensible Shoes" revisits the opener from At Longview Farm with superb results. It's a much more toned down affair here than the earlier version and emphasizes the tempo much better than the older take on the song.
"Golden Boy" relies much more on a mix of slide and straight guitar than many of the other songs and its surefooted amiability will strike a chord and appeal to James' intended audience. The bluesy strokes coloring so much of the album disappear, however, on the last song "Nothing New". Like the conclusion of At Longview Farm, "Water at the Station", "Nothing New" is James at her most vulnerable with nothing but her voice and guitar to entertain and touch the audience. It is a perfect conclusion to a much deeper, richer outing than even her fine debut.
9 out of 10 stars.
YOU TUBE: https://www.youtube.com/watch?v=JWeaQvREJiY
Jason Hillenburg