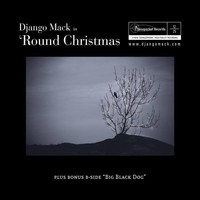 San Francisco based singer/songwriter Django Mack has drawn praise from virtually every quarter for his deft mix of traditional Americana music, imaginative arrangements, and powerful lyrical content. His latest release, "'Round Christmas", paired with an accompanying B-side "Big Black Dog", might initially strike listeners as typical Yuletide themed fare. Even a single listen will demonstrate, however, that despite being inspired by the holiday season, Mack's songwriting is far removed from sweet invocations of Christmas time. It is safe to say that Irving Berlin never entertained the notion of rhyming cancers with answers in a holiday song. Despite the seriousness of the material, it does conjure the atmosphere of the season and the musical atmospherics dovetail nicely into the lyrics and Mack's vocal performance. The production further enhances the atmospherics by balancing its focus between those aforementioned qualities and delineating the melody in a clean, uncluttered fashion.
URL: http://www.djangomack.com/
The signature musical element of "'Round Christmas" is reverb-laced guitar invested with considerable echo. It sets a sonic tone from the outset and emphasizes the song's lyrical mood of regret with its deliberate and patient melody. There's some lovely second guitar dueling in tasteful counterpoint and the percussion strikes just the right note of assertiveness while creating ample space for the instrumentation to breathe around it. Mack's influences, among many, are unusual vocalists like Leon Redbone and Tom Waits, so there's something familiar about the ravaged yet deeply emotive quality of his voice. It certainly fits the lyrical content. Mack wrings every ounce of drama from a literate depiction of loneliness and despair. It never becomes overly histrionic or melodramatic, however, because Mack's language has a purely conversational tone that doesn't attempt casting the pain of the song into pseudo-epic terms. The lyric's unvarnished sincerity and directness are unquestionable.
The B-side "Big Black Dog" features some rollicking barrelhouse style piano and a relaxed mid-tempo drive with more than a little swing. The guitar enjoys some moments of prominence during the song, but it's primarily piano and the rhythm section propelling this forward. The backing musicians enjoy much larger instrumental breaks on this song than they do on "'Round Christmas", but it doesn't distract listeners and, instead, reinforces the track's merit. Mack tempers his rough-hewn vocals some here in comparison to "Round Christmas" and some well-used female backing singers further sweeten the vocal mix. The lyrical content makes entertaining use of one of blues music's oldest tropes, but the contrast between the humor of this song and the seriousness of "Round Christmas" couldn't be more welcome.
Both songs clock in at a little over three minutes and never tax the listeners' patience. The lean economy Django Mack brings to his music is a reflection of the genre's demands, but it likewise says much about his instincts as a songwriter. Everything here is honed to a fine edge and self-indulgence is non-existent. The latest release from this recording artist solidifies his standing as one of the best performers in this vein working today.
CD BABY: http://www.cdbaby.com/cd/djangomack4
Jason Hillenburg