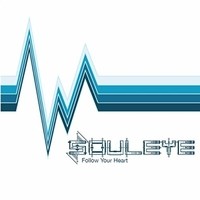 One of the most important genre-crossing talents in the hip hop scene for some years now, Souleye has earned a much deserved reputation as one of the most forward thinking lyricists and performers working in hip-hop today. His latest single release, "Follow Your Heart", continues building on the virtues of his earlier work without any hint of retreading over past glories or losing enthusiasm for his avowed mission to bring music and a positive, life-affirming message to the music listening masses. It isn't save the world missionary zeal that embodies his music however; it's the higher recognition that his musical, performing, and writing talents can be brought in accord with his experiences in such a way that listeners might take another step towards their own personal transformation.
Primary URL: http://www.souleye.net/bio/
"Follow Your Heart" has just the right amount of musical urgency to immediately capture listener's attention. The synthesizer driven fanfare greeting the audience in the opening seconds of the song segues nicely into an insistent mid-tempo beat surrounded by a colorful electronic swirl. The song has excellent construction – two breaks come at nearly a minute a part and stylishly ushers the audience into the song's next phase. The chorus has a pleasing ethereal quality and Souleye's vocal delivery has a strong musical quality that helps convey the lyrical content in a way that listeners are quickly hooked into his message.
The theme and message of the lyric dovetails neatly into Souleye's growing body of musical work. He shows tremendous verbal dexterity moving through passages full of multi-syllable words, but it isn't pretentious. Souleye clearly articulates what he means by "following your heart" and the potential rewards for doing so, but he goes even a step further by spelling out the need for it and the possible consequences for failing. This isn't a song preaching Pollyanna optimism, but self-empowerment and realization for a better life and, ultimately, a better world. These are convictions derived from Souleye's life experience and not a single line sounds forced or insincere. The song, likewise, never wastes the audience's time. It comes in a little under three minutes in length and, coupled with its obvious construction, illustrates the focused and clear-eyed conception of the track. There's little doubt after listening to this that Souleye entered the studio knowing exactly what he wanted to accomplish and how to do it.
Souleye has released many fine recordings in recent years and sounds like his artistic growth is continuing at an exponential rate. He has distilled his message and style into its purest of possible forms and sounds like a performer possessed with low-key, but unflappable, confidence. "Follow Your Heart", as advice, never goes out of style. Souleye's talent lies with taking that adage and fashioning a statement from it that doesn't pay mind to merely the personal, but makes this admonishment universal. The track is sure to musically resonate with many and there's little question that, based on his lyric and vocal performance, that his message will find a wide and receptive audience.
Purchase Link: https://www.cdbaby.com/cd/souleye7
Jason Hillenburg