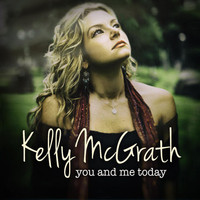 The first single from Kelly McGrath's pending fourth studio release, "You and Me Today", continues the ongoing blossoming that McGrath's songwriting has underwent since her 2007 debut release Fingerprints. This song tackles the weightiest subject of all – death and our response to the loss of a close family member. McGrath doesn't betray a hint of sentimentality in her lyrical musings and the accompanying music complements both the mood of the words and McGrath's emotional tenor. She never sounds mired in despair, but resolute and committed to enduring life's storms. She accomplishes this through contrasting passages of wide-open emotiveness and deft turns of vocal phrase that enliven the lyrics with considerable dramatic value. The production frames the track spectacularly well with a decidedly cinematic air and an ear tuned to balancing the various instruments as well as possible.
URL: http://www.kellymcgrathmusic.com/
She opts for the slow build. The opening features nothing more than some closely-miked acoustic guitar and an intimate McGrath vocal unafraid of exposing its heart. She never highlights the melodramatic possibilities of the song and, instead, her artful phrasing allows her to pursue pathos rather than its hamfisted opposite of bathos. The lyrical content takes some unexpected poetic turns, but the text remains quite accessible throughout and, naturally, benefits from McGrath's eye-popping ability to bring listeners deep into her personal experience. She fits her voice around the arrangement and sings with the music rather than against it. This helps McGrath and her fellow musicians sound like they are a true band rather than merely a vehicle for her vocal pyrotechnics.
The guitar work is the instrumental highlight of the song, but another less obvious highlight is the skill at orchestration the musicians show. Much like the singer, the guitar player, bassist, and drummer have to listen to each other in order to pull off this gradually escalating song. As new elements are introduced to the mix, each player changes their relationship to the material and quickly adepts to the changing sonic landscape. The musical intensity rises to a memorable climax and the song never overstays its welcome or tries to be too elaborate for its own good. The bass and drums are the foundation of everything and help give the music stately, deliberate pacing.
Nashville isn't populated with many artists of this musical caliber. She simply isn't some rustic pop princess who has co-opted traditional forms in an attempt to gain some undeserved reflected glory. Instead, she has a sophisticated yet accessible lyrical point of view, careful and nuanced vocal phrasing and tastefully rendered musical work that is full of restraint and understated virtuosity. "You and Me Today" attacks the most difficult subject at all with heartfelt eloquence and genuine artistry. If this song is indicative of the album's quality, longtime fans of McGrath will rejoice and new listeners will find an artist capable of inspiring them in a way few other modern performers are capable of. The future for this talented Nashville headquartered performer is limitless and incandescently bright.
I-TUNES: https://itunes.apple.com/us/album/you-and-me-today-single/id1160918660
Shannon Cowden