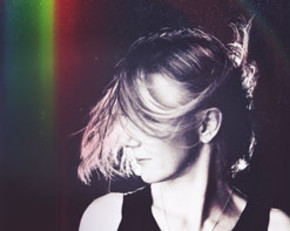 Melbourne's M Dominik is a fascinating artist that we are very eager to share with everyone. We found that the description on her web presence sums up not just her music, but her entire aesthetic with perfection. It reads: "After sunset, in the dark with a cup of tea and a glass of wine is when I sit down and put my headphones on and let music take control…" It's this copacetic blend of inspiration and artistry that has helped her deliver two beautiful videos that perfectly capture the ethereal pop essence of her music, Both "Debris" and "Goodnight Denis" are gorgeous offerings that must be watched to be fully appreciated.
First we want share with you the new video for "Debris." The symbolism of the video is drawn from the fraught, fragile lyrics about a failed relationship and the emotional destruction left in its wake. Dressed in a vibrant, expansive red dress, M Dominik finds herself bound to the floor of an abandoned warehouse, chained by the wrists to the foundation around her. She struggles to break free, but like many damaging life events, the chains that bind her are just too strong. As the video fades, she is temporarily resigned to her fate as she knows it, but living to fight another day…
The second video we want to show you is the emotionally charged "Goodnight Denis." It's a touching tribute to the memory of her dear friend Denis Shaw. The video follows M Dominik as she reenters an apartment that she shared with Denis for the first time since she left to pack up a life since gone. As she somberly moves room to room, the memories of living with Denis flood back, each one heavier than the last. A picture in the room, flowers in the kitchen, and sharing a smoke on the balcony are all reminders of better times. Though the details are ambiguous, the video pulls right on the heart strings as M Dominik hopes to look ahead to better days.